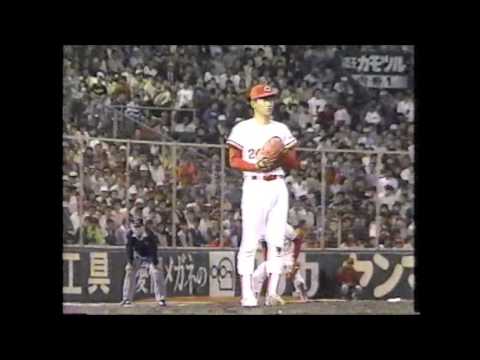 There was the game of Hiroshima Carp vs Yomiuri Giants at Tokyo Dome, in September 10. Carp's magic number was 1 before the game, so if Carp win this game, get the victory of Central league. Starting pitcher was Hiroki Kuroda of Carp and Miles Mikolas of Giants. In the bottom of 1st inning, Hayato Sakamoto made two-run home run from Kuroda, Giants was the first to score. But in the top of 3rd inning, Carp reversed that score of 1-2. After that, Seiya Suzuki and Ryuhei Matsuyama made a home run in the top of 4th inning, Carp lead that score of 3-2.
Then in the top of 5th inning, Suzuki made two-run home run, so Carp lead that score of 5-2. After all Carp won the game that score of 6-4, and got the victory of Central league since 1991. The players of Carp delighted and picked Koichi Ogata of the manager up and tossed him into the air. In this year, there were that Takahiro Arai got 2,000th hit and Kuroda got a combined total of 200th win in Japan & MLB, Carp won 7th championship of Central league. So let's look at the past time's victory day of Carp.
・1st time is Wednesday, October 15, 1975.
・2nd time is Saturday, October 6, 1979.
・3rd time is Friday, October 17, 1980.
・4th time is Thursday, October 4, 1984.
・5th time is Sunday, October 12, 1986.
・6th time is Sunday, October 13, 1991.
・7th time is Saturday, September 10, 2016.
Incidentally, Carp won in the Japan Series on 1979, 1980 and 1984. Will Carp win the Japan Series in this year?
This yotube's video is the Carp's victory at last time. Fans delighte to win for the first time in 25 years.