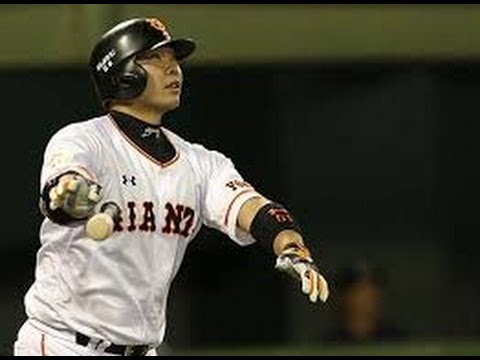 On this day  interleague play has started, there was a game of Yomiuri Giants vs Orix buffaloes at Osaka Dome,May 31.
Shinnosuke Abe(Giants)was played for the first time this season. Abe is 37-years old born in 1979, he joined Yomiuri Giants in 2000. His position is catcher, played as a regular from the rookie's season.
In 2004, Abe hitted 16th home run in 1 month that is Japanese professional baseball record along with Sadaharu Oh. and he took titles of home run and RBI in 2012.
However, he had many injuries since 2014,  in 2016 season he was playing in the minor leagues with right shoulder pain.
Abe had played only at designated hitter, but he hitted 2 home runs & 7 RBI in game of May 29. so he was promoted to the first team from May 31.
On this day, he played in the No. 5 hitter and designated hitter. so he hit a two-run home run in 6th inning, Giants win by 3-2.
After game Abe said"My mood is the best. I was able to good swing. And I want to play at catcher early".
■Other Game result
Swallows 8-4 Fighters(Tetsuto Yamada of Swallows hit No.16 home run)
Eagles 9-1 Tigers(Louis Okoye of Eagles got a first hit in professional baseball)
Lions 2-5 Baystars(Ernesto Mejía of Lions hit No.17 home run)
Marines 5-0 Carp(Marines was stopped at the 3-game losing streak)
Hawks 5-2 Dragons(Sho Iwasaki took 1st win in this season)