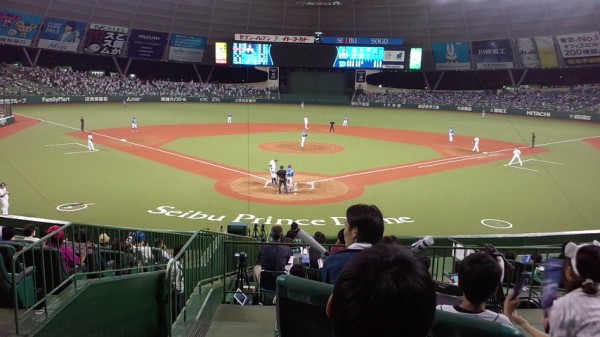 On June 1, The game of Yokohama Baystars vs Saitama Seibu Lions has been made at Seibu Prince Dome.
In the game Elian Herrera of Baystars was the first appearance, and Starting pitcher was Kenta Ishida(Baystars)and Yusei Kikuchi(Seibu).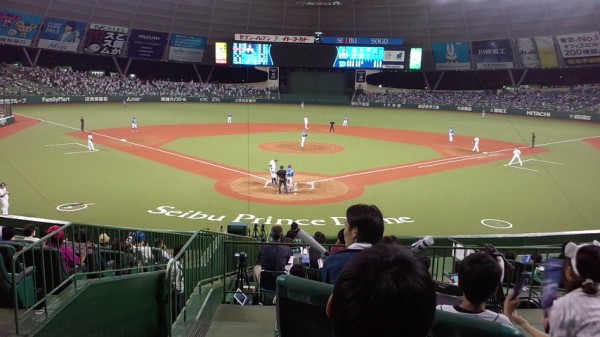 Up to 5th inning both pitcher is nice pitching, the score was 0-0. But Ishida gave 2 four balls in 6th inning, struck the hit of the 1st point by Ernesto Mejía. Then Takeya Nakamura also got a hit, Hideto Asamura hitted the grand slam, score of 5-0.
Shogo Akiyama also hit a home run, Lions won by 7-0. Kikuchi took 11 strikeouts throwing up to 7th inning, he took the 5th win in this season.
There were also scout of Major League Baseball in the seats behind the plate, They ware checking the pitch of Kikuchi. One of the scout was Oakland Athletics.
■Other games result
Fighters 5-2 Swallows(Sho Nakata hit No.9th home run)
Eagles 3-5 Tigers(Koyo Aoyagi took the first professional victory)
Marines 2-4 Carp(Yusuke Nomura took No.6th win)
Buffaloes 0-1 Giants(Tetsuya Utsumi took first win in this season)
Hawks 0-5 Dragons(Hawks was stopped at the 8-game winning streak)