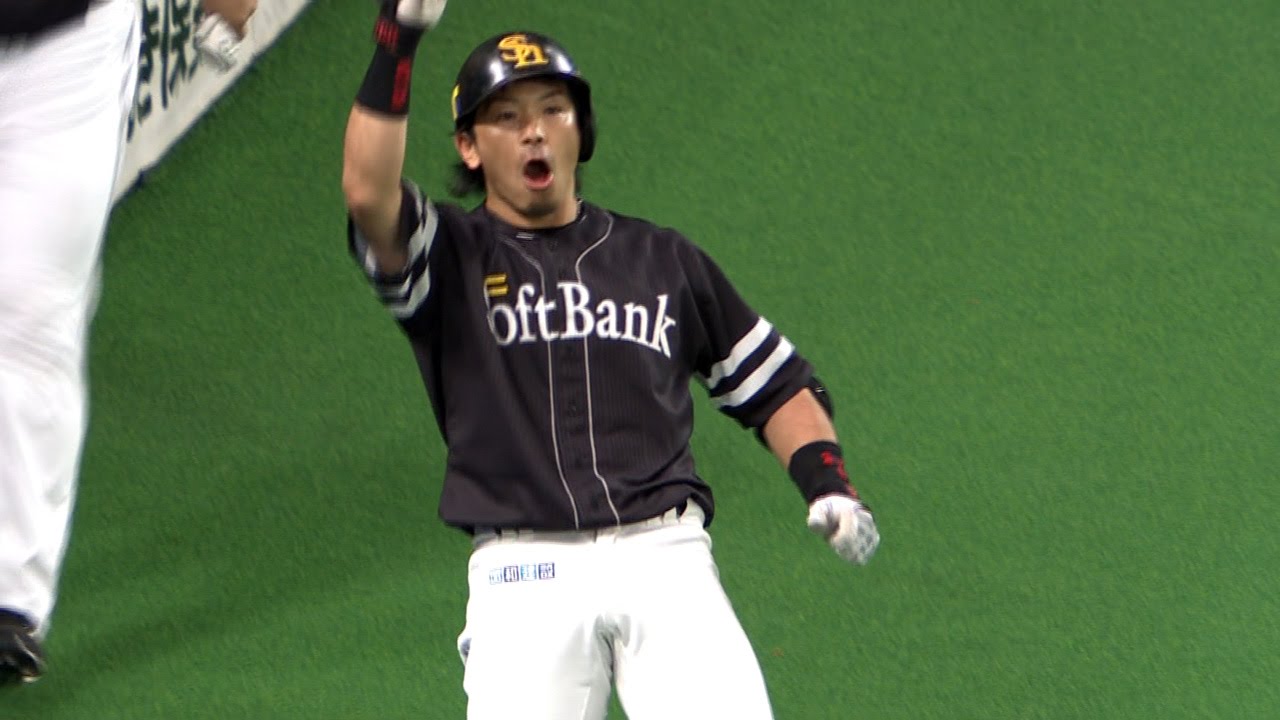 2017 World Baseball Classic is started, the matches of Pool B were held in Tokyo Dome, Japan. On March 7, Japan national baseball team that officially nicknamed Samurai Japan, played against Cuba. Nobuhiro Matsuda of the Fukuoka Softbank Hawks was playing third, he hit three-run home run in bottom of the 5th inning. Matsuda had four hits and five runs batted in this game, finally Japan beat Cuba 11 to 6. He hit 1 for 3 in the next game, Japan beat Australia 4 to 1.
Nobuhiro Matsuda's biography is that his age of 33, and he was born at Shiga Prefecture. Matsuda began playing baseball from 8 years old, and he played baseball at the Asia University where Hirokazu Ibata, Shingo Takatsu and Yasuaki Yamasaki also went. Then he was drafted by the Fukuoka Softbank Hawks in 2005 npb draft.
Matsuda contracted with the Hawks and he was expected a third baseman. At the time his uniform number was 5. At the rookie year, he was the starting member in the opening game. But his stats was bad and Matsuda almost played in the minor league. In 2008 season, he became a cantral player for the Hawks and played in 142 games. His stats was 279. average, 17 home runs and 63 RBIs.
Next season, Matsuda broke his right hand so played only 46 games in 2009 season. But in 2010 season, he resurrected and his stats was 255. average, 19 home runs, 71 RBIs and 17 stolens. So he contributed to the Hawks's league championship. Even after 2011 season, he achieved a stable batting stats and won the Gold Glove Award of the third baseman 5 times. 2015 season was his best season, his stats was 287. average, 35 home runs and 94 RBIs.
In 2015 off season, Matsuda became the free agent and wanted to transfer to MLB team. He negotiated with San Diego Padres, but the contract presented by the Padres was 1 year and annual salary 1 million dollars. So he contracted with the Hawks again. The contract was 4 years and his annual salary is 400 million yen. From 2017 season, his uniform number is 3 that was on by Nobuhiko Matsunaka who received the triple crown batting award in 2004.
Nobuhiro Matsuda also convented in the Japan national baseball team of 2013 world baseball classic, and contributed to semi-finalist of Japan team. Then he convented again in the Japan team of 2015 WBSC Premier12, his stats was 250. average, 2 home runs and 7 RBIs. Matsuda is chosen as a member of 2017 WBC, now he is number one third baseman in Japan. By the way, he married an anchorwoman in 2008 and has two childrens.
His batting form is very unique. When he strikes a foul, he turns around the right foot. That likes the Kabuki that is a traditional stage drama in Japan, many MLB players who took part in the 2014 Major League Baseball Japan All-Star Series at Japan were also interested. The batting form is a barometer of Matsuda's condition, when his condition is bad his body gets frozen forward and he can't turn.
Matsuda has a pose to show off when hitting a home run. He raises a clenched fist in front of the bench and shouts at the spectator "Atsuo!". It means a man that has a burning heart, this was the Hawks' tagline from 2015 and 2016 season. This pose has the effect of exciting the stadium, he showed off when hit a home run at the game with Cuba. But in the United States this may seem insulting.
This youtube's video is Matsuda's home run. In 2015, he hit three-run home run from Shohei Otani of Hokkaido Nippon-Ham Fighters and showed off usual pose.
And this youtube's video is the movie of Japan vs. Cuba. His home run and usual poses are also seen.