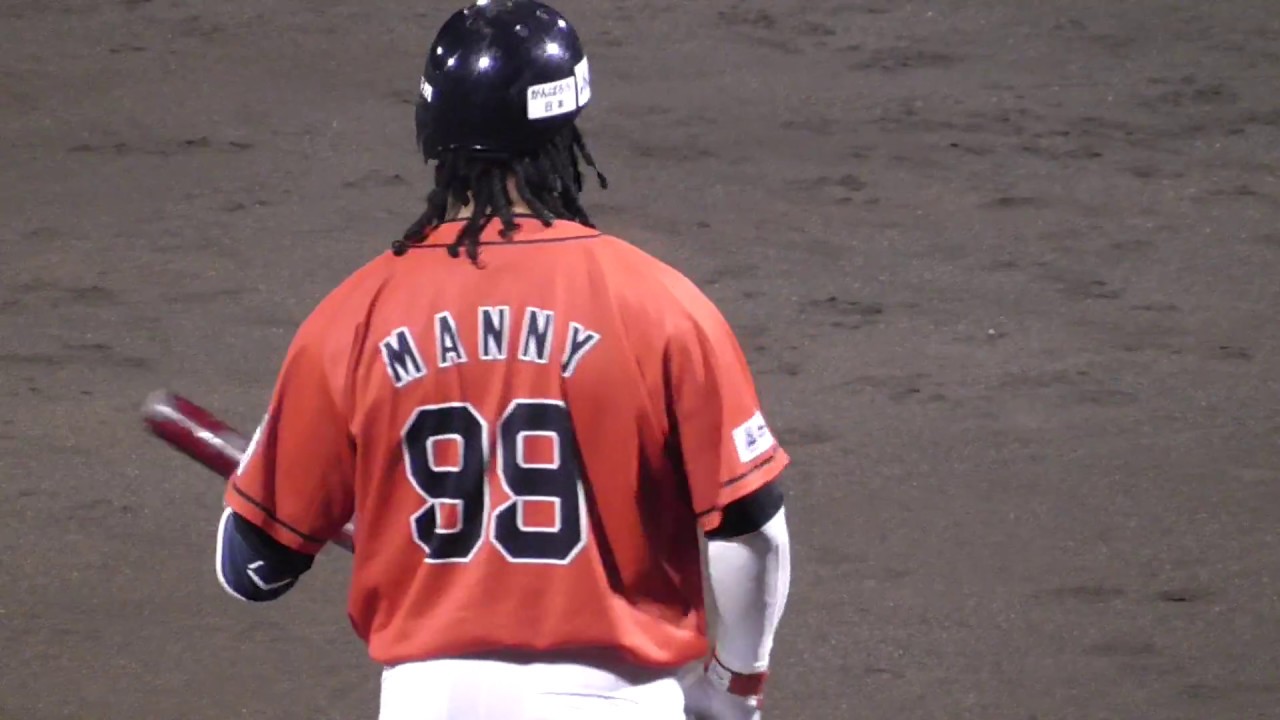 Latest News: In August 17, Kochi Fighting Dogs announced that Manny Ramirez will return to the United States for treatment of his right knee in August 18. The date he will return to Japan is undecided. The pain in his knee is chronic, and he probably will not participate this season.
From July 30, 2017 second half of the Shikoku Island League plus (Japan Independent League) has been started. Kochi Fighting Dogs played against Kagawa Olive Guyners in August 12. Former Boston Red Sox Manny Ramirez was in the starting member of Fighting Dogs, he hit 0 for 4. Fighting Dogs lost Olive Guyners 6 to 4 and kept 1st place in 2017 second half. Ramirez always played for a designated hitter, 2017 his total stats are .413 average, 3 home runs and 22 RBIs in 23 games.
In May 28, 2017 first half of the Shikoku Island League plus had finished, Manny Ramirez returned to United State of America on June 1. His contract was until July, so the team wanted to extend the contract. After that, in July 7 the Fighting Dogs announced that extended his contact until September 2017. He joined the team's expedition to Taiwan from July 15, the team practiced matches in Taiwan until July 23.
It's the movie of Manny's 3rd homer in May 28.
Biography
Manny Ramirez's biography is his age 44, and he was born at dominican republic. He moved to New York at the age of 13 and began to playing baseball. He was selected 13th overall by the Cleveland Indians in the 1991 MLB draft. He had played in the minor leagues of the Cleveland Indians and debuted in the Major League Baseball in 1993 season.
Major League Baseball
After that his success as you know. In 1999, his season stats was 165 RBIs and he became a RBI leader. Ramirez transferred to the Boston Red Sox in 2001 and became a batting leader (2002) and a HR leader (2004). So he contributed to winning the World Series of Red Sox, and his total stats was 312. average, 555 home runs and 1831 RBIs in MLB.
Manny Ramirez was not good at defense, he was playing with left fielder or designated hitter. Then he played with the Los Angeles Dodgers and the Tampa Bay Rays since 2008. But Manny failed the doping test 2 times, he was suspended from competition for total 150 games on a drug ban.
EDA Rhinos of CPBL
It is not the first time Ramirez tried to transferred the Japan team. In 2011 off season, he tried out for the Fukuoka Softbank Hawks of the Nippon Professional Baseball (NPB) but he failed. After that he played in the EDA Rhinos (Now the Fubon Guardians) of the Chinese Professional Baseball League in Taiwan on 2013, and he stopped at Japan after leaving the Rhinos. Probably he was aiming for a contract with a Japanese team.
Kochi Fighting Dogs
The Kochi Fighting Dogs of Japan Independent League announced the contract with Ramirez in January 8 2017. In December 2016, Ramirez had offered to join the Fighting Dogs. So the Fighting Dogs negotiated with him and contracted in Miami. His contract is until July 2017 and annual salary is unknown. He came to Japan with his wife on March, and his uniform number is 99.
The kochi Fighting Dogs belong to the Island League that is the independent league in Japan. The Island League consists of 4 teams and the game is taking place in the Shikoku region. The name of team derives from Kōchi's well-known dog fighting tradition. However there are hundreds of spectators in one game, so Ramirez's annual salary will be tens of thousands dollars.
In the Fighting Dogs, the Chiba Lotte Marines Katsuya Kakunaka had played. He was drafted by the Marines in the 7th round in 2006 npb draft. Kakunaka participated actively in NPB and became the batting leader twice. In addition, former Texas Rangers Kyuji Fujikawa played in the Fighting Dogs on 2015. His stats was 2 wins, 1 loss and an ERA of 0.82 and he transferred to the Hanshin Tigers of NPB. Then the Fighting Dogs are also playing with farm team of NPB, so there is also a slight possibility that Ramirez will play in the NPB team in the future.
Past News
From April 8, the Fighting Dogs has released a replica uniform of Ramirez. It's 9,900 yen (≒89 dollars), but it can only be purchased in Japan.
Then according to Japanese newspaper forecasts, Ramirez will play against former Red Sox Daisuke Matsuzaka during April. Now Matsuzaka belongs to the farm of Fukuoka Softbank Hawks, and a game between Fighting Dogs and the farm of Hawks is scheduled. But Matsuzaka felt something strange about his right shoulder on April 12, He will not throw.
But in the game of April 12, Ramirez injured his left foot and was diagnosed with a muscle in the hospital. So the injury placed Ramirez on the disabled list and he returned to the game from May 3.
Playing Videos
This youtube's video is at bat of Manny Ramirez in Japan. The Fighting Dogs played against Tokushima Indigo Socks on April 4, he hit a double. His batting form has not changed.
This youtube's video is Ramirez' 1st home run. On May 10 Kochi Fighting Dogs played against Tokushima Indigo Socks, Ramirez hit a home run to right.
And this video is Ramirez' 2nd home run on May 14. Then the Fighting Dogs's games are relayed only on regional television, his play is hard to see even in Japan. FAV.SPORTS will report his latest news and stats on this page, please check it out sometime!
マニーさんホームラン出ました😵

1-7です。やっと高知1点目 pic.twitter.com/fNuE88Tr7P

— 375 (@375Honey) 2017年5月14日