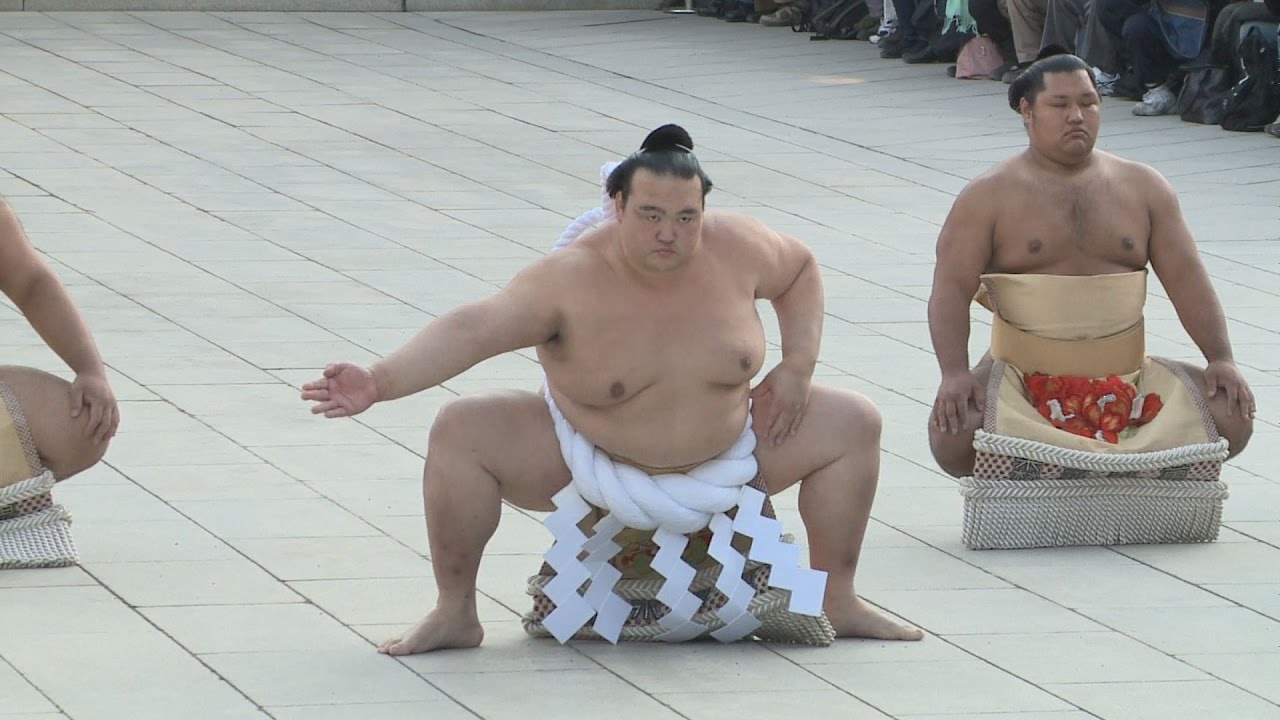 There was a ring entering ceremony (Japanese say "Dohyo iri") of Kisenosato who became a new Yokozuna at Meiji Shrine, located in Tokyo. This is a trademark of sumo wrestling, the sumo wrestler who became the Yokozuna must shows the first ring entering in Meiji Shrine. There were 18,000 spectators in Meiji Shrine, they cheered to Kisenosato's ceremonial entrance into the ring.
Two days before that, Kisenosato who won the January Grand Sumo Tournament 2017, was at the Imperial Hotel Tokyo. On that morning, the Japan Sumo Association held an extraordinary board of directors and the promotion to Yokozuna for Kisenosato was resolved. So Kisenosato was waiting for a messenger to inform the decision.
Eventually the messenger arrived and told Kisenosato that he promoted to the Yokozuna. Kisenosato bowed his head with stable master Tagonoura and said to accept the honor with humility. And the 72nd Yokozuna was born. In addition, he became the Japanese Yokozuna for the first time in 19 years.
Then, The Yokozuna needs a special belt to use when entering the ring. In the day after becoming the Yokozuna, a ceremony was held to make that belt at the stable of Tagonoura. This ceremony is called "Tsunauchi" in Japanese, thirty sumo wrestlers combined the three ropes that made by hemp wrapping around the copper wire. The new belt was completed in about an hour.
Kisenosato wore the new special belt immediately and practiced the ring entering ceremony. The ring entering ceremony has two forms, Unryu and Shiranui. There are two differences between these two forms. First of all, the Unryu has one ring with the special belt but the Shiranui has two rings with the special belt. Second of all, there is also a difference in the performance. Finally Kisenosato chose the Unryu.
In the past, Chiyonofuji, Asashoryu and Takanohana also performed the ring entering ceremony by Unryu. On the other hand, Hakuho and Harumafuji performe the ring entering by Shiranui now. So Kisenosato will performe the ring entering ceremony by Unryu with Yokozuna Kakuryu from next Grand Sumo Tournament.
When entering the ring, a sumo wrestler who follows the Yokozuna into the ring with a sword. Takayasu of the same stable as Kisenosato served as its role, it is called "Tachimochi" in Japanese. Another wrestler accompanies the ceremony, it is called "Tsuyuharai". Shohozan served this role.
This youtube's video is the news movie of Kisenosato's ceremonial entrance into the ring. He showed off the beautiful ring entering ceremony.