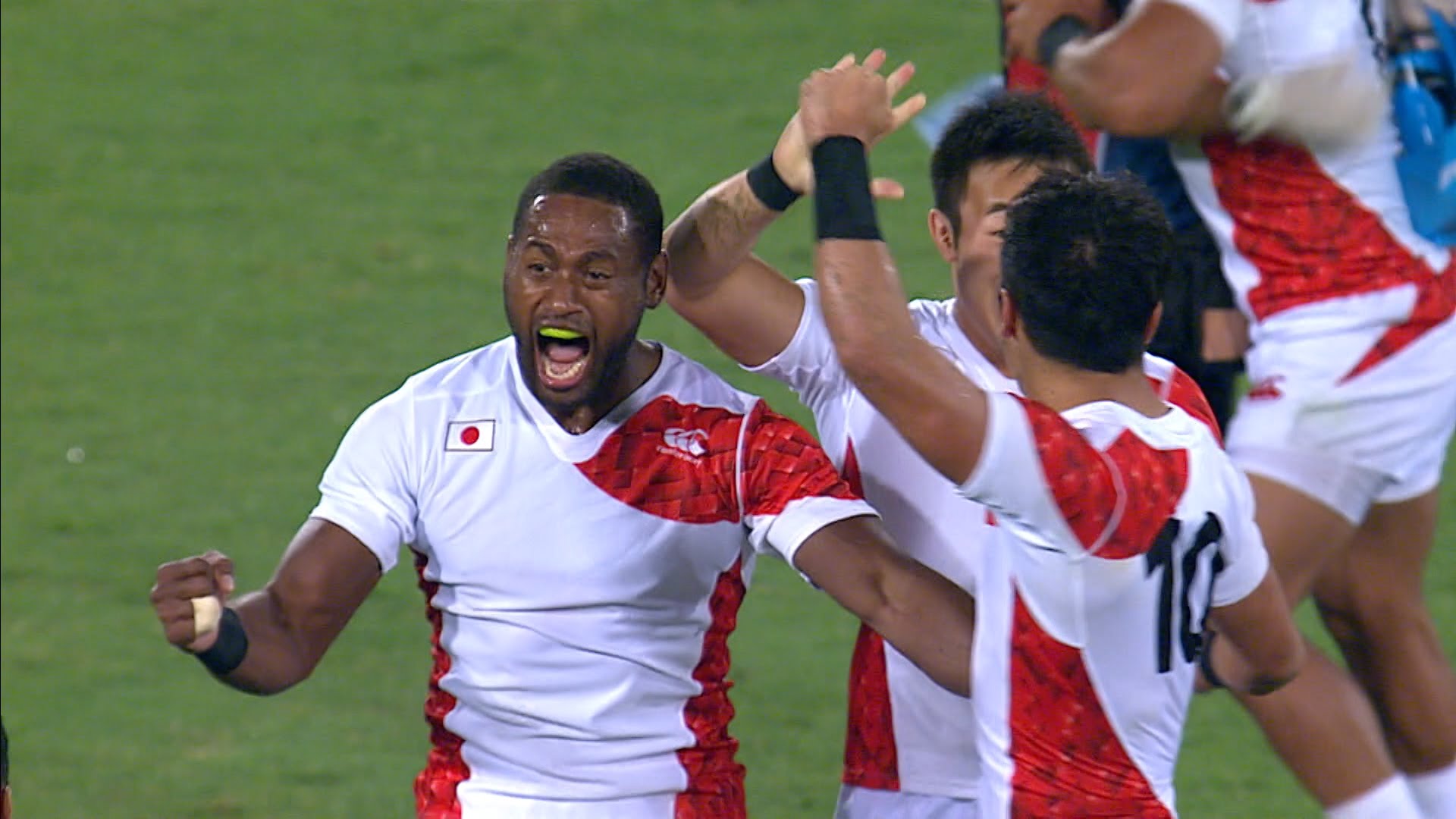 There was the Men's Rugby sevens match of Japan vs France in Rio Olympics at Deodoro Stadium, on August 10. This was the quarterfinals match. In group stage, Japan won New Zealand All Blacks and Kenya, so was the 2-position in group C. France won Spain and Australia, so was the 2-position in group B.
In the 3rd minute of the first half, Damien Cler scored a try, France was the first to score. Terry Bouhraoua got the conversion kick, France took the lead in score of 7-0. Under the influence of rain, Japan could not be a good play. After all Japan didn't got a try, the first half was completed as same score.
In the 2nd minute of the second half, Tuqiri Lote scored a try. Lomano Lemeki failed the conversion kick, but Japan fought back with score of 7-5. After that, the match is advanced in pace of Japan. And in the remaining 20 seconds Teruya Goto scored a try and Katsuyuki Sakai got the conversion kick, Japan took the lead in score of 7-12. Then, it was the end of the match, Japan won France in quarterfinals match.
Japan had never advanced to the semi-final in Rugby World Cup Sevens and World Rugby Sevens Series, This is the first time of semi-final match. The reason for Japan to win France is that they was to ally the rain in the second half. Because of rain, the ball was slippery and it was handling a difficult situation. So Japan pressed quickly on the French player with a ball, and France often putted out of touch line. It became Japan's chance and led to victory of Japan.
But miracle of Japan was over. In semi-final match, Japan losed to Fiji and advanced to match for the 3rd place. Then Japan played with South Africa betting bronze medal, but losed again. Japan could not be a good defense in both match, the opponent players broke through easily. in addition, there was the difference of physique in Japan and Fiji. And, there was the difference of running in Japan and South Africa.
After all, Fiji won Great Britain by score of 43-7 in final, they took the first gold medal. Japan was the 4th place, Let's introduce their stunning in Rio Olympics.
・Japan 14-12 New Zealand All Blacks(1st match of Group C)
・Japan 19-21 United Kingdom(2nd match of Group C)
・Japan 31-7 Kenya(3rd match of Group C, Japan advanced to the quarterfinals at the 2-position)
・Japan 12-7 France(Quarterfinals)
・Japan 5-20 Fiji(Semifainals)
・Japan 14-54 South Africa Springboks(Match for the 3rd place)