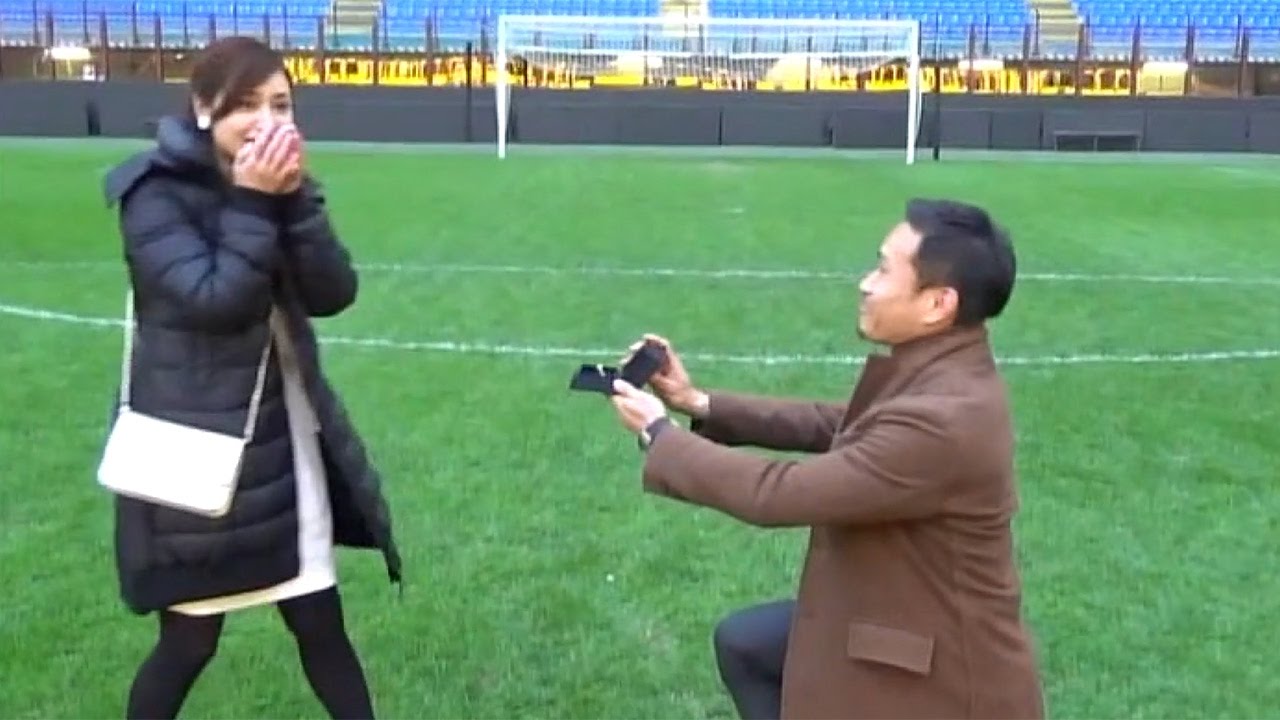 Yuto Nagatomo of the Inter Milan announced that he marries  Japanese actress Airi Taira. Nagatomo and Taira held a news conference in Japan on December 24, they will enroll on January 29, 2017. Taira lives in Tokyo now, so she will migrate to Italy after February 2017. Their relationship was revealed in June. At that time Nagatomo said that Taira is his amore(amore means that lover in Italian), so "Amore" became buzzword in Japan on 2016. After that, Taira came to the stadium in Japan for cheer him sometime.
Yuto Nagatomo 's biography is that he's the age of 30, and he was born at Ehime Prefecture. He began playing football from 7 years old, and enrolled in the Meiji University on 2005. But Nagatomo could not play for disc herniation, he clapped a drum in the stand for cheer. Then he has been exercised to strengthen the core of the body,  he could play again. This training still supports Nagatomo now.
In 2007, Nagatomo was noticed from FC Tokyo of J-League. He participated in practice of the FC Tokyo and contracted with the team in 2008. He participated in the opening game from Rookie Year and played as a central player of the defender. In the FC Tokyo, Nagatomo got 5 goals in 72 matches until two and a half years and became popular player in Japan.
In July 2010, Nagatomo tranferred to A.C. Cesena of the Serie A on a loan. Nagatomo signed the contract with the Cesena of 1 years and played in the opening game. He was also recognized by the manager Massimo Ficcadenti who is currently the manager of the Sagan Tosu in J-League. So Nagatomo tranferred to Cesena on a permanent in January 31 2011, his transfer fee was 1.75 million euros.
And in the same day, Nagatomo tranferred to the Inter Milan(F.C. Internazionale) on a loan. At that time, the history of Nagatomo at Inter Milan began. He participates in an average of 30 matches each year and became a central player of the Intel. Nagatomo tranferred to Inter Milan on a permanent in July 2011, and signed the contract of 5 years. And he extended the contract two years this year and became the most long-time player at Inter Milan. Now his annual salary was 1.3 million euros. His uniform number is 55, this is the sequence of his favorite number.
Yuto Nagatomo was also active in Japan national football team. He played in 2008 Beijing olympics with keisuke Honda and Atsuto Uchida etc. After that, Nagatomo was convened in the top team of Japan from 2008 and also selected to the team for 2010 South Africa World Cup. He contributed to Japan that entered in the last 16. From this world cup, Nagatomo became a central player of the Japan team and played in 2014 Brazil World Cup. He played in 91 matches of the Japan national team until 2016.
Nagatomo's wife, Airi Taira is the age of 32, and she was born at Hyogo Prefecture. In 1999, she debuted in the japanese entertainment world at the age of fifteen. But Taira was a struggling actress, she was noted for the first time in the Japanese movie of 2008. She is such a goofball, so her character became popular on Japanese TV show. Taira and Nagatomo have been dating from 2015. By the way, Makoto Hasebe of the Eintracht Frankfurt in Bundesliga, held a wedding with Japanese model Arisa Sato at Tokyo in December 25. They have been dating for 4 years and and married in July 2016.
In fact, Yuto Nagatomo had proposed to Taira at the San Siro Stadium in February 2016. This youtube's video is the appearance at that time. Congratulations! wishing them the best of things in their marriage!