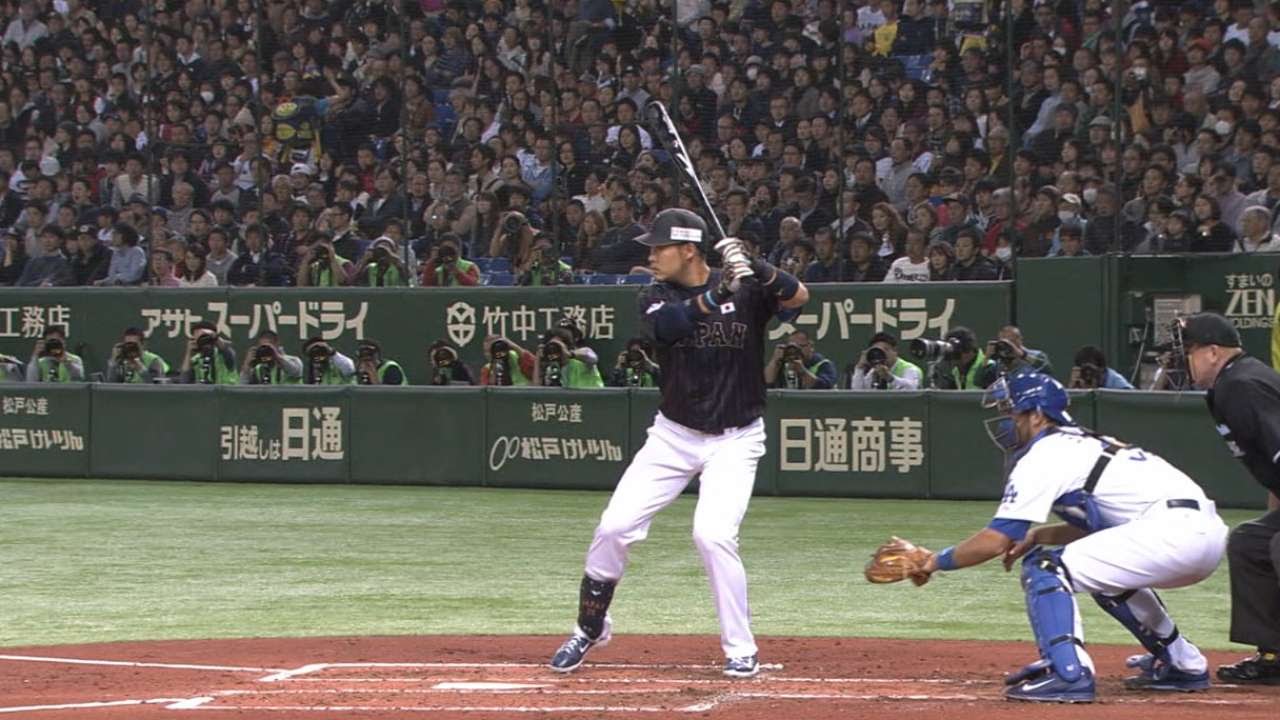 The Yokohama DeNA BayStars of Japan professional baseball announced the contract with Yoshitomo Tsutsugo in December 1 2016. Tsutsugo signed the contract with the BayStars of 1 year and his annual salary is 300 million yen. His annual salary increased by 200 million yen from last year. At the same day, Sho Nakata of the Hokkaido Nippon-Ham Fighters contracted with the team, his annual salary is 280 million yen that decreased by 35 million yen from last year. They are friends and Nakata is an RBI leader of the Pacific League in 2016 season, but Tsutsugo exceeded annual salary for the first time.
Yoshitomo Tsutsugo 's biography is that he's the age of 25, and he was born at Wakayama. Tsutsugo began playing baseball from 8 years old, and he played baseball at the Yokohama High School where Daisuke Matsuzaka and Hideaki Wakui also went. Tsutsugo was drafted by the Yokohama DeNA BayStars in the first round in 2009 npb draft. He contracted with the BayStars and he was expected a third baseman. Tsutsugo had been play in the first team at the rookie year, he also hit the first home run.
In 2011 season, Tsutsugo hurt the ligaments of the right wrist so he was unable to play for three months and played in almost the Minor League. Next year, he played 108 matches in the first team, but his stats was 218. average. 10 home runs and 45 RBIs. So he reduced play in the first team in 2013, he hit only 1 home run. After that, Tsutsugo turned into the outfielder, this was his turning point. His stats was 300. average. 22 home runs and 77 RBIs in 2014 season and he was a cantral player for the BayStars consecutively.
Tsutsugo became a captain of the BayStars in 2015, he improved his stats that was 317. average. 24 home runs and 93 RBIs. Then in 2016 season, he got 15 home runs in July alone. In addition, he hit a home run in the All-Star game and also got the MVP. His season stats was was 322. average. 44 home runs and 110 RBIs and he became a RBI leader and HR leader. So he contributed to going Climax Series the BayStars first time.
Yoshitomo Tsutsugo also convented in the Japan national baseball team of 2015 WBSC Premier12, and contributed to the third place of Japan. At that time, he was a cleanup and his stats was 385. average and 5 RBIs. Tsutsugo will be chosen as a member of 2017 WBC, now he is one of the leading baseball players in Japan. Then he played in the winter league of dominican, he belonged to the Leones del Escogido.
By the way, do you know that Tsutsugo was a switch hitter before? He was a right‐handed batter when he started playing baseball. After that, he started the switch hitter and continued it until high school days. So he is good at folding right elbow and hitting. This is similar to Hayato Sakamoto of the Tokyo Yomiuri Giants(Sakamoto was a lefty originally, but he throws right handed and bats right. so he is good at folding left elbow and hitting).
Tsutsugo also seems to be interested in Major League Baseball, Can he play an active part in MLB? It seems to be difficult at the moment. First of all, he is not good at fast balls over 145 km(≒90 miles), his stats was 218. average. And his stats was 117. average at fast balls over 150 km(≒93 miles). In addition, he is not good at pitchers other than Japanese, his stats was 157. average and only 2 home runs in 2016 season. Second of all, Tsutsugo turned into the outfielderfor three years, so his defense is not very good. He will need to overcome these two points.
In private life, Tsutsugo is not married  and he was dating with a Japanese women of the same age. Then, his favorite foods are chouder and ice cream. By the way, the ice cream that was devised him is sold at the Yokohama Stadium of the Baystars's home stadium. And Tsutsugo admired Shuichi Murata of the Giants, so his uniform number is the same that murata wore at belonging the Baystars.
This youtube's video is a batting of Tsutsugo at the game of Japan vs. the MLB All-Stars in the Japan Series on 2014. He hit a double from Chris Capuano.