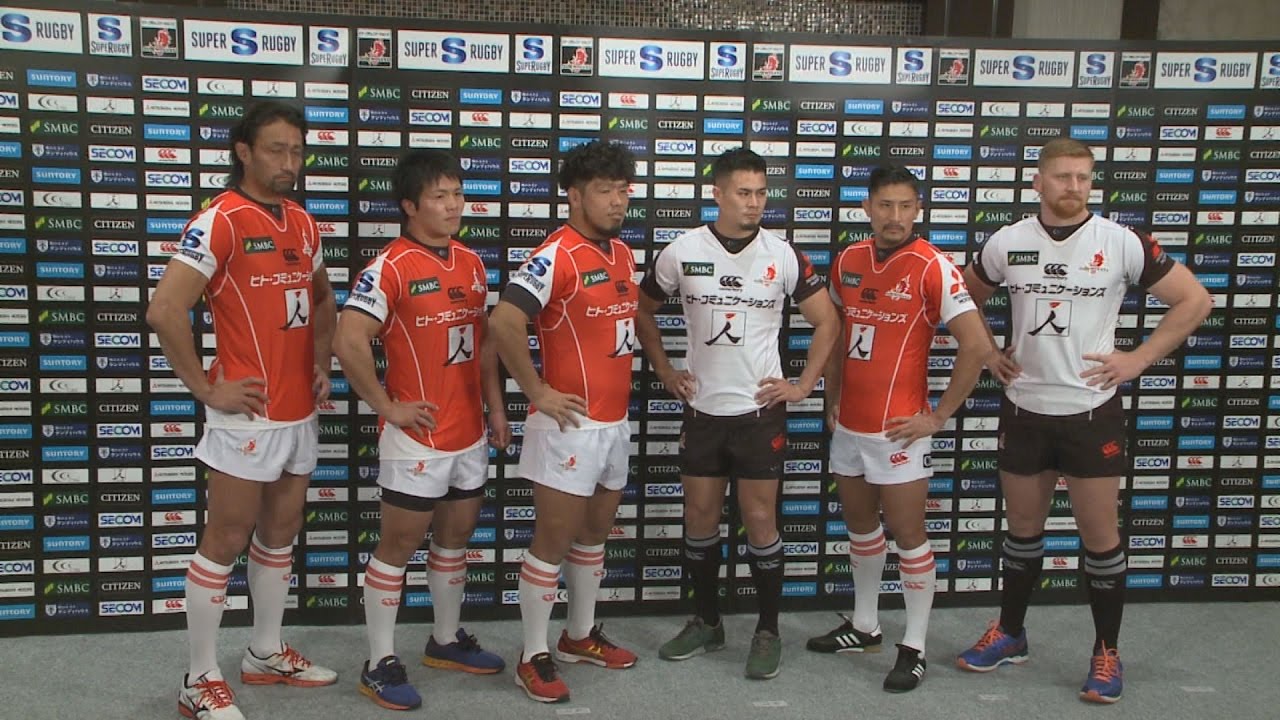 On December 12, Japan SR Association announced the Sunwolves's players for 2017 season, and new jerseys. The Sunwolves are positioned as strengthening of the Japan national team, officially nicknamed Brave Blossoms. In the squad of Super Rugby 2nd year, 21 players of the Japan national rugby union team joined. They played in the 2016 Autumn Internationals and the results were 1 win and 3 losses. Then, 3 players of 2016 Rio Olympics Rugby Sevens's member also joined. So Let's introduce 36 squad of the Sunwolves.
■PR1: Keita Inagaki, Masataka Mikami, Koki Yamamoto
■HO: Takeshi Kizu, Shota Horie, Takeshi Hino
■PR3: Takuma Asahara, Heiichiro Ito, Koo Jiwon
■LO: Hitoshi Ono, Kyosuke Kajikawa, Shinya Makabe, Liaki Moli
■FL: Willem Britz, Edward Quirk, Uwe Helu
■No.8: Yoshitaka Tokunaga, Shuhei Matsuhashi, Malgene Ilaua, Yuhimaru Mimura
■SH: Keisuke Uchida, Takahiro Ogawa, Fumiaki Tanaka, Kaito Shigeno, Yuki Yatomi
■SO: Harumichi Takekawa, Yu Tamura, Hikaru Tamura, Hayden Cripps
■WTB: Teruya Goto, Kenki Fukuoka
■CTB: Timothy Lafaele, Derek Carpenter
■FB: Yasutaka Sasakura, Kotaro Matsushima, Riaan Viljoen
In 2016 season, the Sunwolves finished in the lowest position among 18 teams and their record was 1 wins, 13 losses and a tie. Tusi Pisi was the playmaker of the 2016 Sunwolves, but he plays in Bristol Rugby of the English Premiership. So who is the central player of new Sunwolves? Three new members will be noticed. First player is Fumiaki Tanaka. He was playing 4 seasons with the Highlanders until last season. And he contributed to the first victory of the Highlanders in 2015. Because Tanaka knows the team to win, so he is valuable to the lowest team in 2016.
Second player is Kotaro Matsushima. He was playing in the Melbourne Rebels in 2016. And he scored 3 tries in 2016 Autumn Internationals. Now he is a regular position of FB in the Japan national rugby union team on behalf of Ayumu Goromaru.
Third player is Kenki Fukuoka. He scored 2 tries in the Autumn Internationals and scored 6 tries in the one match of Top League. He was also the 2016 Rio Olympics Rugby Sevens's member, his step will bring victory to the Sunwolves.
About players who are not yet members, Lomano Lava Lemeki who scored 3 tries in the Autumn Internationals was injured so he didn't take part in the Sunwolves. Then, there are the players who have contracted with another Super Rugby team. Amanaki Lelei Mafi contracted with the Melbourne Rebels, and Michael Leitch also contracted with the Chiefs. Other that, Kensuke Hatakeyama and Akihito Yamada have not yet decided to participate in Super Rugby. Filo Tiatia of Sunwolves's head coach told that there are players still in negotiations, so let's expect them to join the Sunwolves.
The Sunwolves will do training camp in Japan from 2017 February 5 to 19, and they will hold the opening match with the Hurricanes on February 25 at the Chichibunomiya Rugby Stadium, Tokyo.
This youtube's video is the press conference of the Sunwolves. The new jerseys are cool!