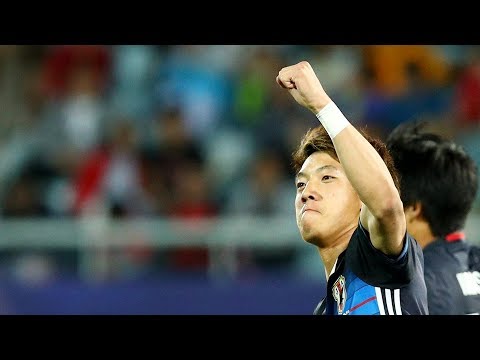 Latest News: The Gamba Osaka of J-League announced that Ritsu Doan transfers to FC Groningen of Eredivisie in June 23. The Groningen had an option to buy Doan (on initial loan deal), and the contract period is 1 year from July 1. According to the news media in Japan, his annual salary is 300,000 euros and transfer fee is 1.5 million euros. His uniform number is 25, the reason why Doan chose the number is that he imaged Shunsuke Nakamura of former Celtic.
Then the 16th round of 2017 J1 League was held on 4th week of June. In June 25 Gamba Osaka played against Kawasaki Frontale at Suita City Football Stadium. Doan was in the starting member of Gamba, finally the match ended in a draw 1 to 1. This was a final match for Doan in Japan.
Biography
Ritsu Doan was born at Hyogo prefecture in 1998 (Age 18). The last name "Doan" is unusual (In Japan there are a lot of father's surname), but his parents are Japanese and not Vietnamese. Doan began playing football from the elementary school, and he was playing in the Gamba Osaka's cantera of J-League. Doan was a Midfielder (Lefty) and broke into the first team in 2015.
Gamba Osaka
Doan played in 3 matches in 2015, and next year he also played in Gamba Osaka Under-23 of J3 League. In that team, he played as a central player and scored 10 goals in 21 matches. In 2017 season, he has increased opportunities to participate in Gamba Osaka and got 3 goals (As of June 1). His uniform number is 38.
Japan national team
Ristu Doan was active in Young Japan national football team, he selected to the team for AFC U-19 Championship 2016. He contributed to win the championship and got Most Valuable Player of the tournament.
Doan also selected to 2017 FIFA U-20 World Cup roster and and contributed to last 16 of U-20 Japan. He scored 3 goals in 4 matches, so the official twitter of FIFA commented about him "Japanese Lionel Messi".
Transfer to FC Groningen
In July 2016, PSV Eindhoven of Eredivisie made an offer to Doan. PSV thought that Doan had the future prospect, so they wanted to contract with him on a loan deal. But He didn't transfer and remained in Gamba.
According to the 2017 news media in Japan, PSV and AFC Ajax had an interest in Doan. And AS Monaco of Ligue 1 also had an interest in him. Doan told that he felt the enthusiasm of Groningen for the reason to transfer to the club.
Private Life
Ritsu Doan is not married yet and still single. But he has a Japanese girlfriend and posted a photo on twitter. (He accidentally tweeted so deleted it now. The picture at that time is left in this japasene site)
Video
This youtube video is Doan' goal in 2017 FIFA U-20 World Cup. Japan played against Italy, he scored 2 goals. so the match was drawn 2 to 2, Japan survived the first-round tournament to advance to the final round. FAV.SPORTS will report his latest news and stats on this page, please check it out sometime!