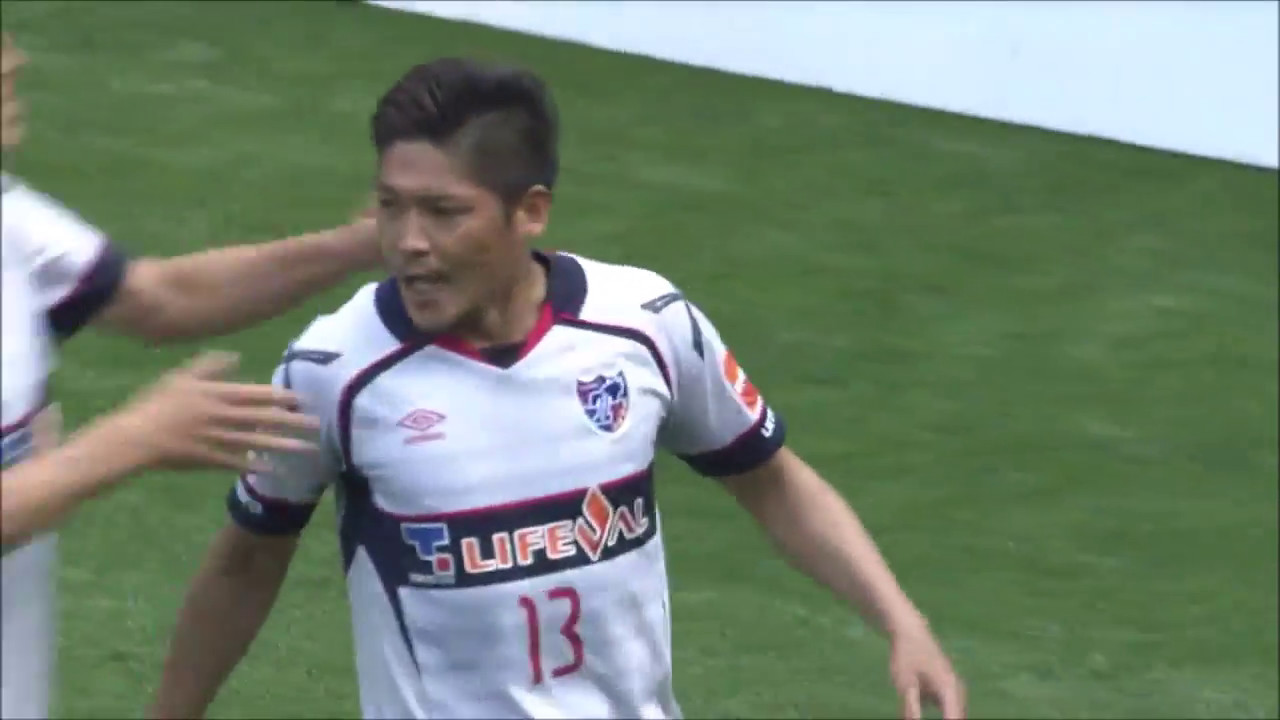 Latest News: In June 25, Yoshito Okubo of FC Tokyo injured his leg during the match with Jubilo Iwata and leaved the match. After examination at the hospital, he was diagnosed with damage to the ligament of the right knee and as having 6 weeks until full-force. His return will be around August.
About 2 month ago, the 10th round of 2017 J1 League was held on 1st week of May. In May 7 FC Tokyo played against Vegalta Sendai at Yurtec Stadium Sendai. Yoshito Okubo of former Kawasaki Frontale was in the starting member of FC Tokyo and he scored 2 goals in this match. Finally FC Toyko beat Vegalta 2 to 0. So FC Tokyo took 4th place and 19 point in 2017 season. (There is a movie of Okubo' goal at the bottom of this page)
Biography
Yoshito Okubo was born at Fukuoka prefecture in 1982 (Age 34). He began playing football from the elementary school and played in the position of forward. Then he entered Kunimi high school that was the prestigious foorball school. His team won the All Japan High School Soccer Tournament and Okubo got a top scorers.
Cerezo Osaka ~ RCD Mallorca
After graduating from high school, he joined the Cerezo Osaka of the J-League in 2001. He played as a central player until 2004 and got 57 goals in 112 matches in the Cerezo.
In November 2004,  Okubo transfered of loan deal to the RCD Mallorca of Liga Espanola. He scored a goal and assisted in the debut match, he attracted attention. He was also active after that and contributed to the Mallorca that escaped relegation. After the end of 2004-2005 season, Okubo was selected of the young best eleven in the Liga Espanola that was chosen by UEFA, with Sergio Ramos. Okubo was 22 years old then.
Cerezo again ~ VfL Wolfsburg
In June 2006, Okubo returned to the Cerezo. But the Cerezo demoted to the second division, he transferd to the Vissel Kobe after the end of 2006 season. His transfer fee was 300 million yen. He played in the Vissel until 2008 and got 27 goals in 70 matches.
After that he transferd to the VfL Wolfsburg of Bundesliga, his transfer fee was 250 million yen. Okubo couldn't be active in the Wolfsburg, but he experienced the championship of the Bundesliga with Makoto Hasebe in 2008-2009 season.
Kawasaki Frontale ~ FC Tokyo
Okubo returned to the Vissel in June 2009. He played as a central player until 2012 and got 29 goals in 100 matches in the Vissel.  But the Vissel demoted to the second division, he transferd to the Frontale after the end of 2012 season. Okubo made a good combination with Kengo Nakamura in the Frontale, he got the top scorers of J-League from 2013 to 2015. Okubo also scored 181 goals total in the J-League until 2016 season, this is the J1 League record for Most Career Goals.
On November 8 2016, Okubo announced his transfer. His contract with the Frontale ends over, so he decided to play in the FC Tokyo of J-League 2017 season. His contract with the FC Tokyo is 2 years and his annual salary was 100 million yen.
Japan national team
Yoshito Okubo was also active in Japan national football team. He played in 2004 Athens olympics and scored 2 goals. This success triggered the transfer to the Mallorca. After that, he participated in 2010 South Africa World Cup and contributed to Japan that entered in the last 16.
After that, he was not selected to the national team for a while, but he convened in the Japan team just before 2014 Brazil World Cup. He played in 3 matchs but didn't scored a goal in 2014 World Cup.
Private Life
His family: Okubo married with Japanese woman (his wife is a high school classmate) in 2004 and had four sons, and he recently bought a home. Because he cherishes the family very much so he transfered to the FC Tokyo where he can go from home.
Playing Video
Okubo scored over 230 goals total in his professional career. This youtube's video is his goal of in May 7 2017. FAV.SPORTS will report his latest news and stats on this page, please check it out sometime!