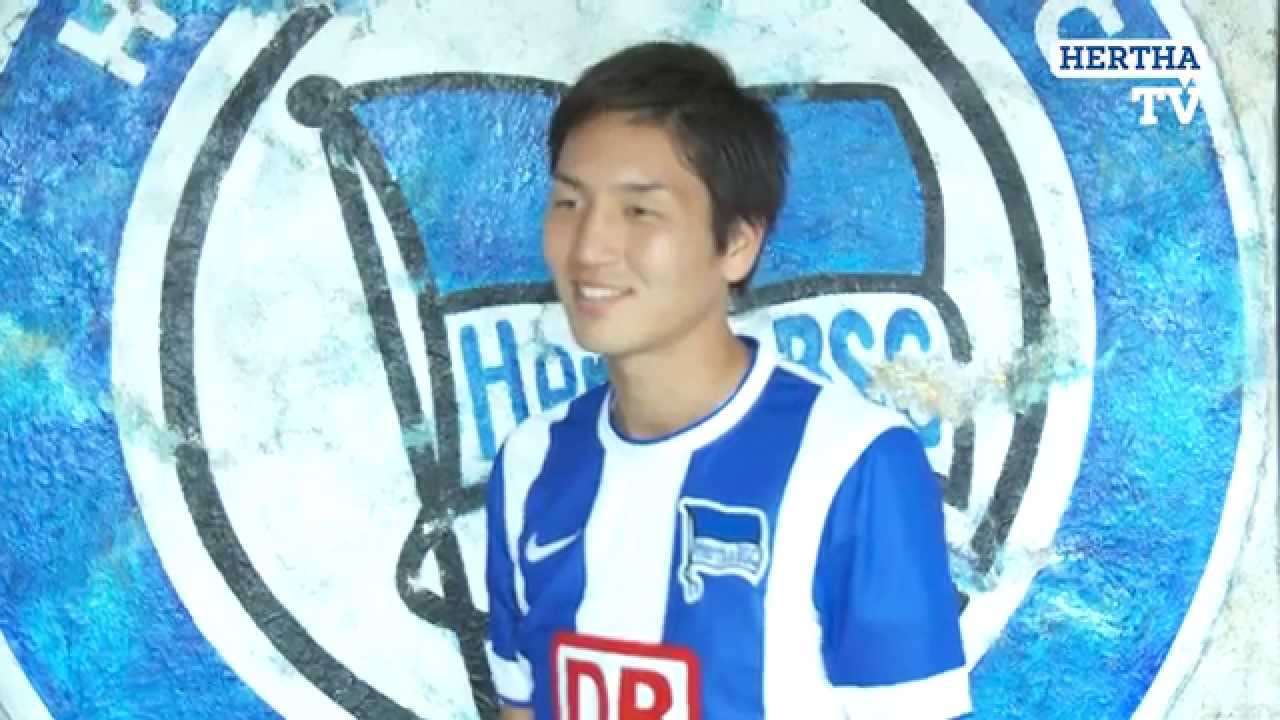 Latest News: According to the news report in Japan, Brighton & Hove Albion F.C. (often referred to simply as Brighton) of English Premier League are negotiating with Genki Haraguchi of Hertha BSC Berlin. Haraguchi has been contracting with Hertha from 2014 and the contract has been left for one year.
But the Hertha will not extend the contract with Haraguchi and is hoping for his transfer to get a transfer fee. He also seems to want to play in the Premier League. Haraguchi' transfer fee is estimated to be between 3 million euros and 5 million euros.
Haraguchi is chosen as Japan national football team and played in the match of Japan vs. Iraq that's the final round of Asian qualifiers for the 2018 FIFA World Cup at Teheran, in June 13. He was a starting member but didn't score a goal, finally the match was drawn 1 to 1.
Biography
Genki Haraguchi was born at Saitama prefecture in 1991 (Age 26). Haraguchi began playing football at the elementary school, and had been playing in Urawa Red Diamonds' cantera of J-League. Haraguchi was a forward and broke into the first team in 2008.
Urawa Red Diamonds
Haraguchi played only a match of J1 League in 2008, but next year he played in 32 matches and scored a first goal. In Red Diamonds, he had played as a central player from 2009 and scored 38 goals in 200 matches. In 2014 season, he was given a uniform number 9.
He was immature youth in the Red Diamonds. Sometimes Haraguchi revealed his emotions, complained about the manager's commandment and fought with his teammate. However, not being selected as a national team member of 2014 Brazil World Cup changed his consciousness.
Hertha BSC Berlin
In May 2014, Haraguchi transferred to Hertha BSC Berlin of Bundesliga on a permanent deal. He signed the contract of 4 years, his transfer fee was 500,000 euros (Estimated annual salary was 400,000 euros). A Japanese player Moe Hosogai has also played in Hertha and supported Haraguchi in the team.
Until then Haraguchi almost hadn't defended, so he has been changeing his play style and becomeing a hardworking player. He has scored only 4 goals in the league matches from 2014 to 2017, but has contributed to the team with devoted play and played in 84 matches.
Japan national team
Haraguchi was active in the final round of Asian qualifiers for 2012 London olympics, but he wasn't chosen as U-23 member of the olympic finals. In June 2015, he was selected to Japan national football team for the first time in 2 years and scored a first goal against Iraq.
From 2016, Vahid Halilhodzic of manager had watched haraguchi' play in Hertha and has been selecting him as a starting member. Haraguchi has responded to expectations and scored in 4 consecutive matches (2016.9~11). This is a new record of Japan national football team in the final round of Asian qualifiers.
Family and wife
Genki Haraguchi has married Ruriko Kaya of Japanese woman announcer (Her parents home is a famous shrine in Tokyo). They had been dating for 3 and a half years, and had registered a marriage in August 2015. He has no children and lives with wife and a pet dog that name is "Ena". His mother is a veterinarian so he lived with dogs all day in Japan.
Video
This youtube video is the movie when Haraguchi joined Hertha in 2014. He received a medical check and did a press conference. FAV.SPORTS will report his latest news and goal video on this page, please check it out sometime!