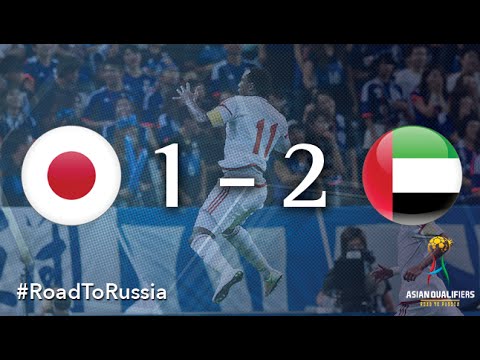 The final round of Asian qualifiers for the 2018 FIFA World Cup started on September 1. 12 countries divided into two groups, Up to second place of each group can play in the World Cup. Japan is Group B, it is the same group with Thailand, United Arab Emirates(UAE), Saudi Arabia, Australia and Iraq. In this day, there was a match of Japan vs UAE was held at saitama stadium, Japan.
On this match, Yosuke kashiwagi(Urawa Reddiamonds)was not played by the injury of Left hip joint. In his place, Ryota Oshima(Kawasaki Frontale)was debut of national team. Other that, Gen Shoji(Kashima Antlers)was also leaving with injury, Naomichi Ueda(Kashima Antlers)becomes the member of Japan. But always of members such as keisuke Honda(A.C.Milan), Shinji Okazaki(Leicester City), Shinji Kagawa(Borussia Dortmund)and Hiroshi Kiyotake(Sevilla FC)has played.
In the 11th minute of the first half, Honda got first goal to convert the centering ball by Kiyotake. But after 9 minutes, Ahmed Khalil of UAE scored on a free kick. So it became same score of 1-1. After all, the first half was completed as same score.
In the 8th minute of the second half, UAE got the penalty kick by Oshima's foul. Khalil score a goal again, UAE took the lead in 2-1. Therefore, Japan changed the player, Takashi Usami(Augsburg), Takuma Asano(Schduagert)and Genki Haraguchi(Hertha Berlin)entered the pitch. In addition 32th minute, Asano seemed to score the goal to convert Honda's cross. It was over the goal line Clearly, but the referee did not recognize as goal. After all UAE won the game.
There are 2 causes that japan defeat. First, it is the Misjudgment of the referee. It was also over the goal line in the video. Second, The referees of this match was all Qatari. It is unusual for the referee in the same region as UAE, Originally the referee of Southeast Asia is responsible. The referee did the favorable judge for UAE that is neighbor of Qatar.
The country lost the first match that the final round of Asian qualifiers, there is no country that participated in the World Cup. So Japan is more difficult that will play in Russia World Cup. Japan will play with Thailand in the next match, at Bangkok September 6.