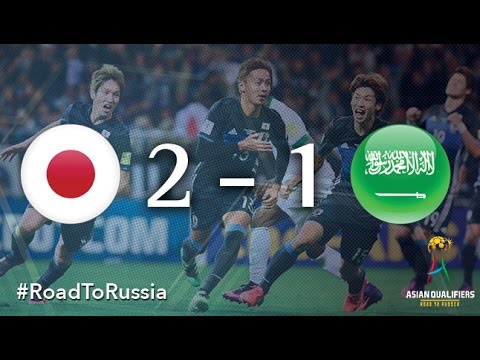 There was the match of Japan vs Saudi Arabia that is the final round of Asian qualifiers for the 2018 FIFA World Cup at the Saitama Stadium, in November 15.  In this match, Shinji Okazaki(Leicester City), Shinji Kagawa(Borussia Dortmund)and keisuke Honda(A.C.Milan)were not a starting member. So Hiroshi Kiyotake(Sevilla FC), YuYa Osako(FC Koeln)and Yuya Kubo(Yuya Kubo)played in their position. And Usual members such as Maya Yoshida(Southampton), Makoto Hasebe(Frankfurt), Genki Haraguchi(Hertha Berlin),Hiroki Sakai(Marseille)and Yuto Nagatomo(Intel)has played.
Saudi Arabia had taken 10 points and they are the leader in this group. All members are playing in the domestic league, so the combination of players is good. Bert van Marwijk of the manager was the former manager of Netherlands, and won second place in 2010 South Africa World Cup. The team came to Japan a week ago and they was preparing for this match.
In the first half, Japan were on the offensive. But Saudi Arabia kept a clean sheet so the match proceeded as same score. But in the 43 minute, Saudi Arabia did the handball so Japan got a penalty kick. Kiyotake converted a penalty calmly, after all the first half was completed as score of 1-0.
In the second half Japan changed a player, Keisuke Honda participated on behalf of Kubo. Then Japan attacked continuously but did not got a goal. In the 20 minute, Japan changed the second player, Shinji Kagawa participated on behalf of Kiyotake. So in the 35 minute, Haraguchi got a first goal to convert the penetrating pass by Kagawa. Haraguchi received a ball and scored a clincher. Saudi Arabia got a goal in the 45 minute, finally Japan beat Saudi Arabia 2 to 1.
As a result, Japan took 3 points in this match. So Japan moved level on points with Saudi Arabia, 10 points. But because Saudi Arabia beat Japan on goal differential, it stands at the top of its group. Because Australia drew with Thailand 2 to 2, their point was 9.
There was a symbolic event in this match. All three of Keisuke Honda, Shinji Kagawa and Shinji Okazaki were not a starting member for the first time in 4 years. As a result they participated in the second half. They were the central player of the Japan national team for a long time but they became the reserve player in this match. The Japanese attack got better, Japan hit 19 shots. On the contrary Japan reduced Saudi Arabia's shot to five.
Then Haraguchi was active successively last match with Australia. He scored the goal for four matches in a row, this was the most record in Japan at the final round of Asian qualifiers for the World Cup. Haraguchi, Kiyotake and Osako will become the center player of Japan in the future. Japan will play with United Arab Emirates on away in March 23 2017.
This youtube's video is the highlight of this match.