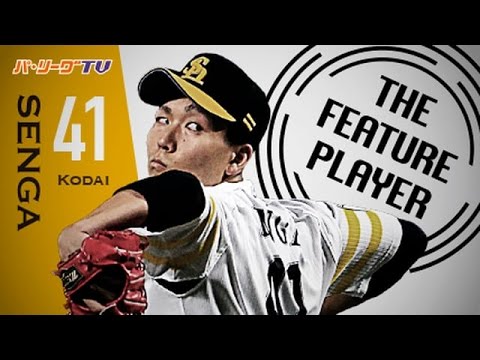 Latest News: In August 12 Fukuoka Softbank Hawks played against Hokkaido Nippon-Ham Fighters at Fukuoka Yafuoku Dome. The starting pitcher for the Hawks was Kodai Senga, he allowed no earned run in 7 innings with 9 strikeouts. Finally the Hawks beat the Fighters 1 to 0, so Senga won 10th in 2017 season.
2017 Senga' total stats were 10 wins, 102 strikeouts, no complete game, 96 1/3 innings pitched, 15 pitching appearances, a .833 winning percentage and an ERA of 2.43 (As of August 12).
It's a movie of Senga's pitching in August 12.
Biography
Kodai Senga was born at Aichi Prefecture on 1993 (Age 24) , he began playing baseball from 8 years old. Senga was a pitcher and an unknown player at high school days. But an owner of the local sports shop informed Hawks' scouts about him, so Senga was drafted by Fukuoka Softbank Hawks in 2010 draft.
Fukuoka Softbank Hawks
Senga contracted with the Hawks and his uniform number was 128. At the rookie year, he played for a year in the minor league. Next year, he pitched in the first team first time but only 2 games and 4 innings.
In 2013 season Senga became a setup pitcher and played in 51 games. His stats were 1 win, 85 strikeouts, 56 1/3 innings pitched, 17 holds and an ERA of 2.40. And he scored scoreless streak to 34 1/3 innings, he participated in the all star game. Then Senga changed his number to 41. However in 2014 season, Senga injured his right shoulder on July and underwent rehabilitation during the year.
And next season, he turned into the starting pitcher and won 2 times. After that 2016 season was his breakout year on the NPB. Senga was in the starting rotation for the Hawks this year, his stats were 12 wins, 181 strikeouts, 169 innings pitched, 25 pitching appearances, a .800 winning percentage, and an ERA of 2.61.
Feature as player
He also threw a 156 km (≠97 mile) fastball and incredible fork-ball (split-finger). His fork-ball has the same swing of arm as fastball and falls well, so he can throw off hitters' timing. Then his fork-ball is same as former Seattle Mariners Kazuhiro Sasaki, Senga strikes out more.
Japan national team
Kodai Senga also convented in the Japan national baseball team of 2017 World Baseball Classic and contributed to semifinalist of Japan team. His stats was 1 win, 16 strikeouts, 11 innings pitched, 4 pitching appearances, and an ERA of 0.82. So Senga was chosen as the best nine only one player from Team Japan.
With this activity he was noticed from scouts of Major League Baseball, but Senga will become the free agent in 2023 season and the Hawks don't admit the posting system. So MLB has to wait for him for 6 more years.
Private Life
His family: Senga married with Japanese woman (his wife is ordinary people and same age as him) in 2015. By the way, his annual salary is 65 million yen.
Other Video
This youtube's video is Kodai Senga's pitch on April 11 2017. He allowed no earned run in 8 innings with 13 strikeouts, so Senga won 1st in 2017 season. FAV.SPORTS will report his latest news and stats on this page, please check it out sometime!