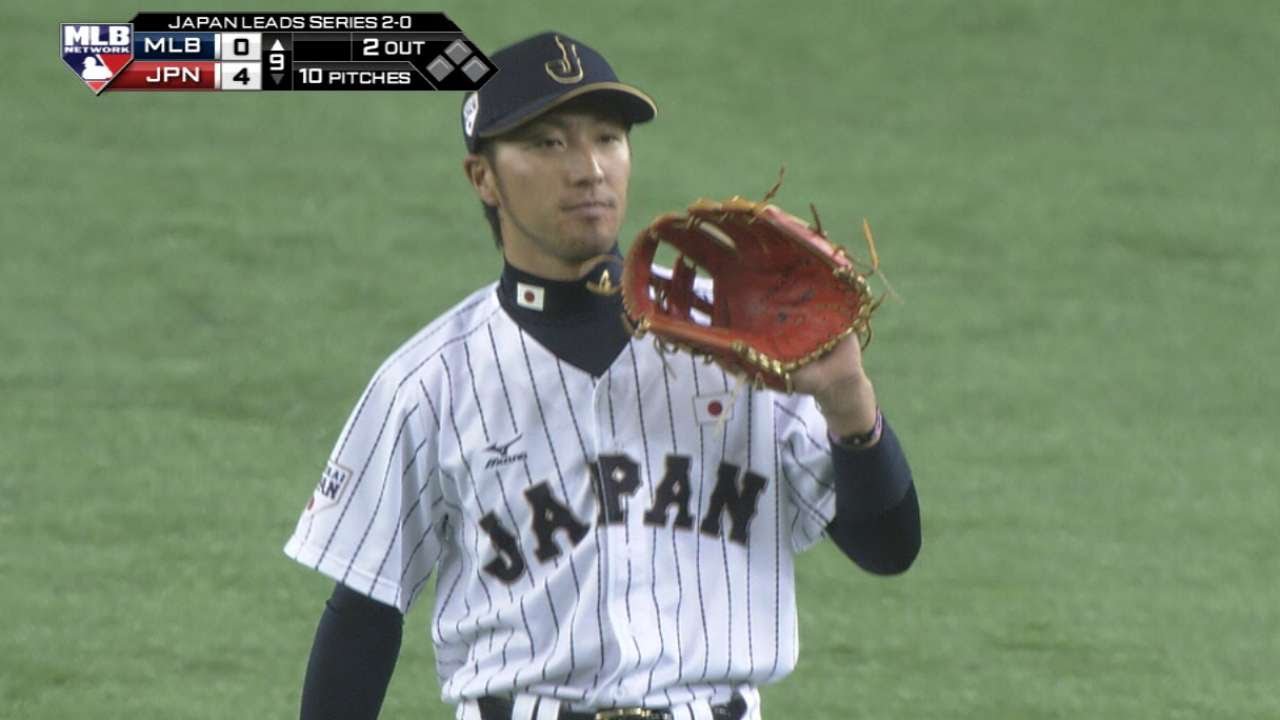 The Round 2 of 2017 World Baseball Classic started, the matches of Pool E were held in Tokyo Dome, Japan. On March 12, Japan national baseball team that's officially nicknamed Samurai Japan, played against Netherlands. Ryosuke Kikuchi of the Hiroshima Carp was playing second baseman, he made a circus catch.
In the bottom of 7th inning with a runner on first base and 1 out, Xander Bogaerts (Boston Red Sox) hit a drive toward center field. But jumping sideways Kikuchi caught the ball and got out with a glove hand toss. This play turned the tide, finally Japan beat Netherlands 8 to 6.
Ryosuke Kikuchi's biography is his age of 27, and he was born at Tokyo. Kikuchi began playing baseball from 4 years old, but he was an unknown player until high school days. Then Kikuchi played baseball at Chukyo Gakuin University, he received the triple crown batting award and played an active part in shortstop.
After that, Kikuchi was drafted by the Hiroshima Toyo Carp in the second round at 2011 npb draft. Kikuchi contracted with the Carp and he was expected a shortstop. his uniform number is 33. In the rookie year, he played in the minor league at first. But he turned to the second baseman and played in the first team first time.
Next 2013 season, Kikuchi became a cantral player for the Carp and played in 141 games. And Kikuchi sacrificed 50 times in this season, he was the leader in the Central League. Not only the sacrifice bunt, his stats was 325. average in 2014 season. Then in 2016 season, his stats was 315. average, 13 home runs and 56 RBIs so he contributed to the Fighters's league championship. And he hit 181 hits and became a hits leader in the Central League.
Ryosuke Kikuchi also convented in Japan national baseball team and played in the 2014 Major League Baseball Japan All-Star Series at Japan. Then he convented again in Japan team of 2017 WBC. Tetsuto Yamada who achieved the triple three for 2 years in a row is also second baseman in Japan team. but Kikuchi is a regular of second baseman because he is good at fielding.
Kikuchi won the Gold Glove Award of second baseman 4 years in a row, now he is a best second baseman in Japan. His range of defense is wide and he has a good strong arm. So Kikuchi recorded 535 assists in 2014 season, this is a best record in the Japanese professional baseball (NPB).
Then, Kikuchi chews a gum during the game. This is unusual for Japanese players because many japanese think that it is unwise to play while chewing gum. But He always wants to keeping his normal mind, so he chews the gum in the batter's box and the time of defense. By the way, his annual salary is 145 million yen and he is not married.
This youtube's video is Ryosuke Kikuchi's play in the 2014 Major League Baseball Japan All-Star Series at Japan. Kikuchi seems to consider transferring to Major League Baseball, but he will become the free agent in 2021 season. So he may transfer to MLB by the posting system faster than that.
And this youtube's video is Kikuchi's play in the game with Netherlands. He looks like the Ninja!