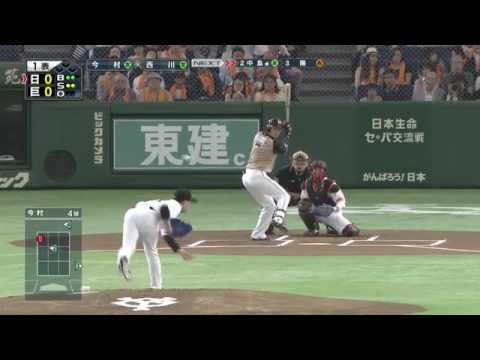 The game of Yomiuri Giants vs Hokkaido Nipponham Fighters has been made at Tokyo Dome, June 4.
Starting pitcher was Nobutaka Imamura of Giants and Luis Mendoza of Fighters. In 1st inning, Fighters took 3 point by the hits of Daikan YOH and kensuke tanaka. but Giants also took 1-point by infield grounder at same inning.
After that, Luis Cruz struck the three-run home run from Mendoza, Giants took the lead in the score of 4-3. Cruz and Mendoza were best friend from school days, and played together in national team of Mexico at WBC 2013.
In 3rd inning, Sho Nakata hitted home run from Imamura, Fighters was to tie score of 4-4. but in 6th inning, Shinnosuke Abe also got home run from keisuke Tanimoto who has changed from Mendoza, Giants took the lead in the score of 5-4.
Kentaro Nishimura of Giants, pitched since 1 year ago in 8th inning. But he made that the bases loaded with no outs. After that, he took 2 strikeouts and kept to scoreless. After all, the game was the end as it is, Giants won by 5-4.
Giants were 6-game winning streak and became 1st place in Central League.
■Other games result
Swallows 4-6 Buffaloes(Kazumasa Yoshida got 3rd victory in season)
Baystars 6-5 Marines(Yoshitomo Tsutsugo hitted good-bye home run)
Eagles 3-0 Dragons(Dragons were 3-game winning streak)
Tigers 5-1 Lions(Randy Messenger took 5th victory in season)
Carp 1-1 Hawks(The game was called because of rain)