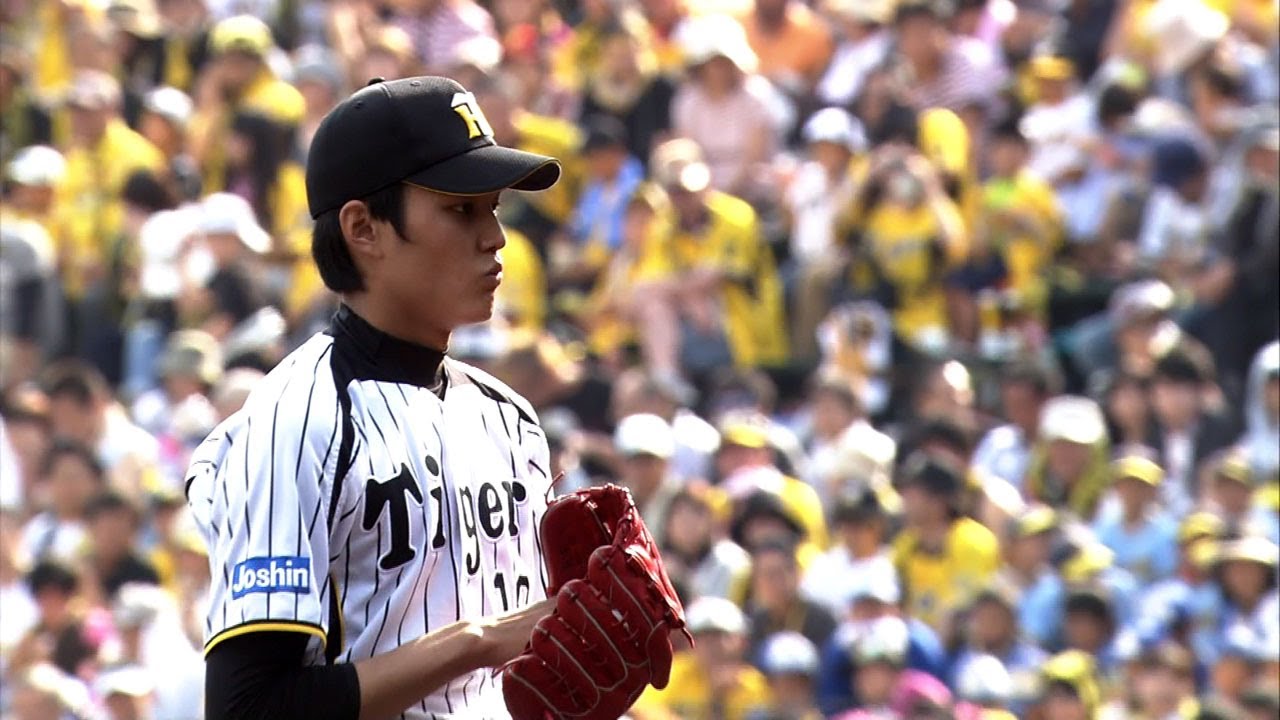 The Hanshin Tigers are one of the most popular team on Japanese professional baseball (NPB). The Tigers work out in Okinawa, there were about 26,000 spectators in their spring training on February 19. At that day, the practice game was held and the Tigers played against the Hokkaido Nippon-Ham Fighters. The starting pitcher for the Tigers is Shintaro Fujinami, he allowed 1 earned run in 5 innings with 7 strikeouts.
Fujinami is chosen as a roster of 2017 World Baseball Classic, so he threw a ball to use at the WBC. And the mound was too stiff like an American stadium on the day. Because the Japanese mound is soft, it was necessary for Fujinami to get used to it. Fujinami adapted nicely, he also threw a 154 km (≠96 mile) fastball. After that, he will join the training camp of Japan national baseball team that officially nicknamed Samurai Japan.
Shintaro Fujinami's biography is that he's the age of 22, and he was born at Osaka. Fujinami began playing baseball from 7 years old, and he played baseball at the Osaka Toin High School where Tsuyoshi Nishioka, Takeya Nakamura and Sho Nakata also went. In high school days, Fujinami pitched at Koshien in 2012 spring & summer and led his team to victory 2 times in a row. Then he was drafted by the Hanshin Tigers in the first round in 2012 npb draft and contracted with the Tigers.
The Koshien Stadium is also Tigers's home field, so Fujinami was expected a starting pitcher and his uniform number is 19. He had been play in the first team at the rookie year, his stats was 10 wins, 126 strikeouts, 137 2/3 innings pitched, 24 pitching appearances, a .625 winning percentage, and an ERA of 2.75. But 2013 Rookie of the Year was acquired by Yasuhiro Ogawa of Yakult Swallows (Ogawa won 16).
Fujinami won 11 in the next season, he reached double-digit 2 years in a row. And he also did a good play in 2015 season, his stats was 14 wins, 221 strikeouts, 7 complete games, 199 innings pitched, 28 pitching appearances, a .667 winning percentage, and an ERA of 2.40. So Fujinami became a strikeout leader. However, due to inflammation of the right shoulder, he won only 7 in 2016 season.
Shintaro Fujinami also convented in the Japan national baseball team of the 2014 Major League Baseball Japan All-Star Series at Japan. Then he convented again in the Japan team of 2015 WBSC Premier12, but he declined with the influence of right shoulder inflammation. After that, Fujinami also played in the friendly games with Mexico national baseball team last year. His pitch was evaluated at that time, so Fujinami is chosen as a member of 2017 WBC.
Fujinami is the same age as Shohei Otani and they are good friends since high school days. In NPB, Fujinami played against Otani in May 2013. Fujinami allowed 1 earned run in 7 innings and won the game, but Otani hit 2 doubles from Fujinami. Their showdown has not been realized since this time.
Fujinami grew up in Osaka which is the home town of Tigers, but he was a fan of the Tokyo Giants when he was a child. In addition, He is suffering from Tigers fans' jeering in Koshien. If he do well, Fujinami will be free agent in 2020 off-season. Now he seems not interested in Major League Baseball, but at that time the possibility is high that he will transfer to other team. By the way, his annual salary is 160 million yen and he is not married.
This youtube's video is the showdown of fujinami and Otani in 2013. Then in Japan team of 2017 WBC, he becomes a relief pitcher. But he sometimes allows bases on balls so I think that he is not suitable for the relief pitcher.