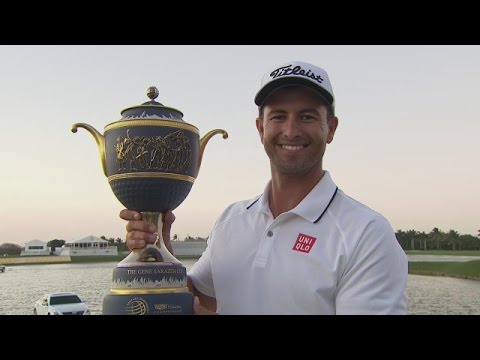 Japan Golf Association announced that Adam Scott of US PGA tour player takes part in the Japan Open Golf Championship 2016. At the same time, it was announced that the two japanese star players also participate in this tournament, Hideki Matsuyama and Ryo Ishikawa. "Japan Open Golf Championship" is the national open, it is the japanese version of U.S. Open Championship. It will be hold until October 13 to October 16, at Sayama Golf Club in Saitama.
Adam Scott take part in this tournament 3 consecutive years, he finished 38th in 2014 and finished 7th in 2015. Scott said "I want to win in this year. I am looking forward to meet with Japanese fans".
Hideki Matsuyama participates in the tournament for the first time in four years. He was an amateur player in 4 years ago, and finished 7th at that time. In the same week, The Safeway Open that opening tournament of the 2016-2017 US PGA Tour, will hold at Silverado country club in California. But Matsuyama doesn't take part in the tournament, participates in this major tournament at Japan.
Ryo Ishikawa also takes part in the Japan Open Golf Championship for the first time in four years, he finished 35th at that time. After this tournament, Ishikawa aims to participate in CIMB Classic of US PGA Tour. It hold at Kuala Lumpur Golf & Country Club in Malaysia.
In fact last year, Scott told that National Open is also an important tournament for any country and his mission is to join them in this tournament, who are Matsuyama and Ishikawa of Japanese top players. And this year, Scott kept his word!
This youtube's video is the final round of the Cadillac Championship 2016. He won of 1 stroke difference from the 2nd-position, Bubba Watson. Japanese fans are looking forward to his play.