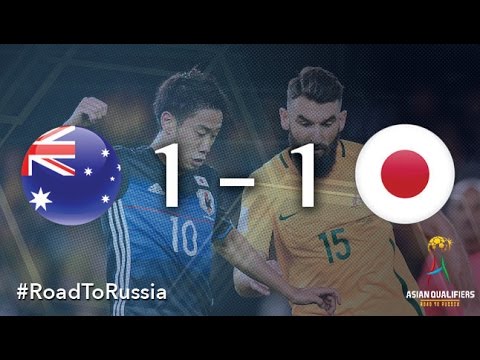 There was the match of Japan vs Australia that is the final round of Asian qualifiers for the 2018 FIFA World Cup at Docklands Stadium Melbourne, in October 11. In this match, Shinji Okazaki(Leicester City)and Hiroshi Kiyotake(Sevilla FC)were not a starting member, so Yu Kobayashi(Kawasaki Frontale)and Shinji Kagawa(Borussia Dortmund)played in their position. But always of members such as keisuke Honda(A.C.Milan), Maya Yoshida(Southampton), Makoto Hasebe(Frankfurt)and Genki Haraguchi(Hertha Berlin)has played. Hotaru Yamaguchi who scored in winner in the Iraq's match, was also the starting member. Then, Hiroki Sakai(Marseille)could not participate by the cumulative warnings, so Tomoaki Makino(Urawa Reddiamonds)played in Sakai's position.
In the 5th minute of the first half, Genki Haraguchi got a first goal to convert the penetrating pass by Honda. Haraguchi received a ball and he was one on one with the Keeper, but he found the back of the net coolly. Then Japan attacked continuously but did not got a goal. After all, the first half was completed as score of 1-0.
In the 7h minute of the second half, Haraguchi pushed Tomi Juric in the penalty area. So Australia got a penalty-kick . Mile Jedinak scored a goal, it became same score of 1-1. Japan wanted the goal so they changed the player, kiyotake, Takuma Asano(Schduagert)and Yuichi Maruyama(FC Tokyo)entered the pitch. Australia also changed the player, Tim Cahill entered the pitch. Cahill had scored 5 goals in past Japan's match, and took 2 goals from Japan in 2006 World Cup. But they did not get a goal each other, The match was drawn.
In this match, Genki Haraguchi scored a goal but he also gave a penalty kick, he involved to all goals. However Haraguchi got a goal 3 matches in a row, he is the best player in Japan national team now. Conversely, Kagawa played full-time but his condition was bad. If Vahid Halilhodzic of manager replaced Kagawa in the early hours, the results of this match would have changed. In fact, Japan's Substitution was slow in this match. Japan should be changed the members from the start of the second half.
Japan took 1 point in this match, they got a minimum result. But Japan have to get 3 points in next match. Japan will play with Saudi Arabia at Saitama stadium in November 15.
This youtube's video is the highlight of this match. For some reason, the sea gulls were flying a lot during the match.