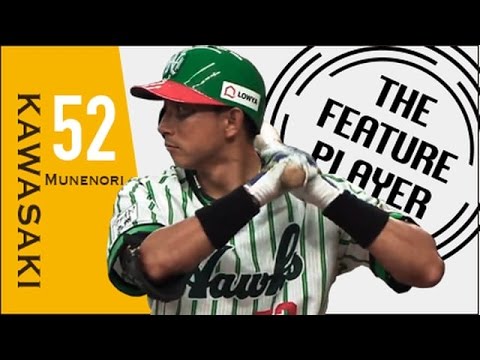 About a month have passed already from the first game of Japanese professional baseball (NPB) . In May 11, Fukuoka Softbank Hawks played against Orix Buffaloes at Fukuoka Yafuoku Dome. Former Chicago Cubs Munenori Kawasaki was the lead‐off man and played second base. He hit 3 for 4 and got a combined total of 1500th hit in his professional career in the Major League Baseball and Japan. Finally the Hawks beat the Buffaloes 12 to 2.
Biography
Munenori Kawasaki was born at Kagoshima prefecture in 1981. Kawasaki began playing baseball from 9 years old, but he was an unknown player until high school days. He had played baseball at Kagoshima Prefectural Technical High School where Yusaku Kuwazuru of Japan national rugby sevens team also went. Kawasaki was always a shortstop until high school days.
Japan Professional Baseball
Kawasaki was drafted by the Fukuoka Daiei Hawks (now Fukuoka Softbank Hawks) in the 4th round in 1999 npb draft. He contracted with the Hawks and his uniform number was 52. At the rookie year, he played for a year in the minor league. Next year, he played in the first team first time only 1 game.
In 2003 season Kawasaki became a cantral player for the Hawks and played in 133 games, his stats were 294. average, 30 stolen bases and 51 RBIs. And next year Kawasaki hit 171 hits and got 40 stolen bases, he contributed to the victory of Japan series. So he became a hits leader and a stolen base leader.
Kawasaki had been played in NPB until 2011 season. Looking at the results of 11 years, his batting average was 294. and he got 267 stolen bases in total. So he was always the lead‐off man. Kawasaki also had good hands, he won the Gold Glove Award of the shortstop in 2004 and 2006.
Major League Baseball
In 2011 off season, Kawasaki became the free agent and wanted to transfer to MLB team. He signed the minor league contract with Seattle Mariners in January 2012, and his stats were 455. average and 1.012 OPS. So he promoted to the Major League Baseball in the opening game.
After that, Kawasaki played in Toronto Blue Jays and Chicago Cubs until 2016 season. But he signed the minor league contract and promoted to Big league every year. He could not make good stats. But Kawasaki had an incredibly cheerful character, he got an interview with a little help from a translation book. Because that situation got a reputation, he became popular in Toronto and Chicago.
Back to Japan 2017
On March 31 2017, Fukuoka Softbank Hawks announced the contract with Munenori Kawasaki. He returned for the first time in 6 years. The contract is 1 year and his annual salary is 90 million yen. His uniform number is 52.
Then Kawasaki was playing in a minor league, and he promoted to the first team on April 28. In this day, the Hawks played against Orix Buffaloes at Kyosera Dome. Kawasaki was the lead‐off man and played second base. He hit 1 for 4, the Hawks beat Buffaloes 3 to 1. (There is a movie of his play at the bottom of this page)
Japan national team
Munenori Kawasaki also convented in the Japan national baseball team of 2006 World Baseball Classic and contributed to victory of Japan team. Then he also convented in the Japan team of 2008 Beijing olympics. And he played again in the Japan team of 2009 World Baseball Classic, he played for the third baseman in 5 games.
Private Life
Kawasaki married with Japanese woman (his wife is ordinary people) in 2011 and had a son who was born in 2013. Then he had a daughter who was born at Japan in December 2016. So this may have been the reason he returned to Japan.
Anecdote
Kawasaki had batted right, but he turned a left‐handed batter with Ichiro Suzuki's influence in Junior high school days. He is a geek of Ichiro and because the thought of the number one after Ichiro, he has a strong commitment to jersey number 52. By the way, the Hawks opened wait number 52 and was waiting for Kawasaki.
And he appeared in a commercial alone in Japan, 2017. It's the TV commercial of vodka based canned chuhai (Japanese spirit with soda), Kawasaki appeared in a samurai costume.
Videos
This youtube's video is the TV commercial of Kawasaki. He showing off "Iai" that is one of the Japanese Marshal Art used to be played by Samurai Worrior.
And this youtube's video is Kawasaki' play on April 28 2017. FAV.SPORTS will report his latest news and stats on this page, please check it out sometime!