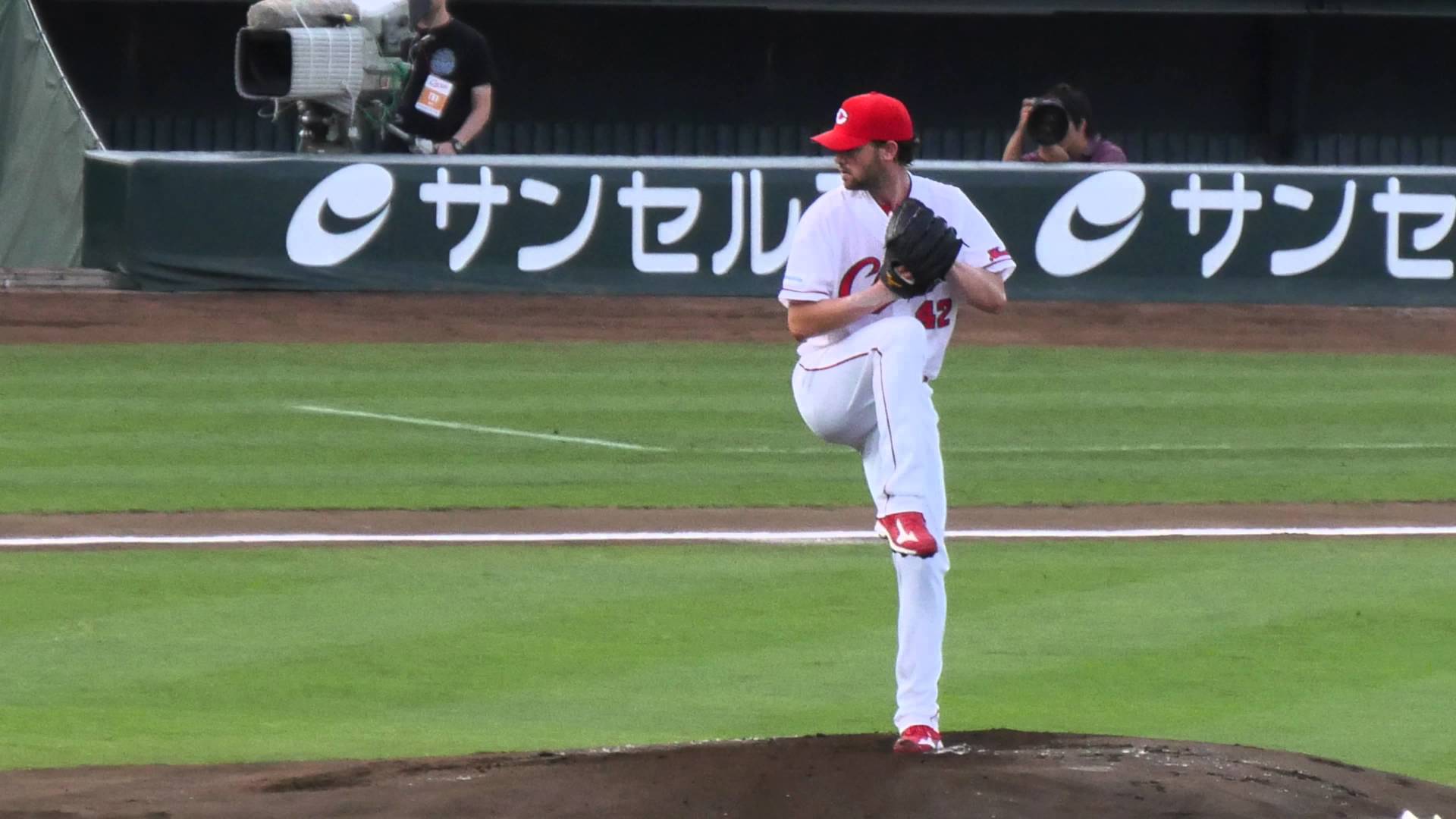 Kris Johnson , a pitcher for the Hiroshima Carp won this year's Sawamura Award on October 24. Sawamura Award is a proof that has been made in honor of achievements of the legend pitcher, Eiji Sawamura. Johnson was an another japanese player who won this award for the first time in 52 years, former Hanshin Tigers Gene Bacque. And Johnson won this award without a title for the first time in 35 years, former Tokyo Yomiuri Giants Takashi Nishimoto. He won the prize money of 3 million yen.
Kris Johnson 's biography is that he's the age of 32, and he was born at the state of California, the United States of America. He was selected 40th overall by the Boston Red Sox in the 2006 MLB draft. He had played in the minor leagues of the Boston Red Sox until 2011 season. And he contracted with the Pittsburgh Pirates in 2012 and debuted in the Major League Baseball in 2013 season. After that, he transfered to the Minnesota Twins and started in 3 games in 2014 season. But finally he couldn't win in the MLB.
In October 2014, Kris Johnson transfered to the Hiroshima Carp. He signed the contract with the Carp of 1 year and his salary was 700,000 dollars. Because his grandmother was Japanese so he wanted to play in Japan. He throw in 28 games in 2015 season, his stats was 14 win and an ERA of 1.85. So he got an ERA leader. In November 2015, he signed the contract with the Carp of 1 year again and his salary went up to 1.25 million dollars.
He also did a good play in 2016 season. His stats was 15 wins, 141 strikeouts, 3 complete games, 180 1/3 innings pitched, 26 pitching appearances, a .682 winning percentage, and an ERA of 2.15. So he signed the contract with the Carp of 3 years and his salary was 10 million dollars from 2017 to 2019. And he throw in the 2016 Japan Series on October 22, and won a game with the Hokkaido Nipponham Fighters.
What is the difference between Sawamura Award and Cy Young Award? Sawamura Award is selected by the five screening people who were the former professional baseball player. But Cy Young Award is determined by the vote of the press. Then, Sawamura Award selected among the starting pitcher, but Cy Young Award is also a target for the relief pitcher. And Sawamura Award selected only one player in the Japan professional Baseball, but Cy Young Award selected one player from both league, the National League and  the American League. Other, Sawamura Award was first introduced in 1947, and Cy Young Award was first introduced in 1956.
Cy Young Award selected the pitcher who was most active in the year, and there is no selection standard. However, The selection standards for the Sawamura Award were 15 wins, 150 strikeouts, 10 complete games, 200 innings pitched, 25 pitching appearances, a .600 winning percentage, and an ERA of 2.50. This standard does not need to be sure all clear, Kris Johnson has cleared only four. This standard is no longer fit the era. For example, only Masahiro Tanaka has cleared "10 complete games" in recent years. So it was considered to change the standard of Complete games and Innings pitched and add the Quality Start from next year. By the way, Johnson's Quality Starts was 24 times and his QS percent was 92.31% in 2016 season.
Many Japanese MLB player also won Sawamura Award in Japan. Let's introduce the players who have won in the past.
Masumi Kuwata(Former Pittsburgh Pirates)in 1987
Hideo Nomo(Former Los Angeles Dodgers)in 1990
Koji Uehara(Boston Red Sox)in 1999 and 2002
Daisuke Matsuzaka(Former Boston Red Sox)in 2001
Kei Igawa(Former New York Yankees)in 2003
Kenshin Kawakami(Former Atlanta Braves)in 2004
Yu Darvish(Texas Rangers)in 2007
Hisashi Iwakuma(Seattle Mariners)in 2008
Kenta Maeda(Los Angeles Dodgers)in 2010 and 2015
Masahiro Tanaka(New York Yankees)in 2011 and 2013
This youtube video is Johnson's Pitching form. It's beautiful when viewed in slow motion.