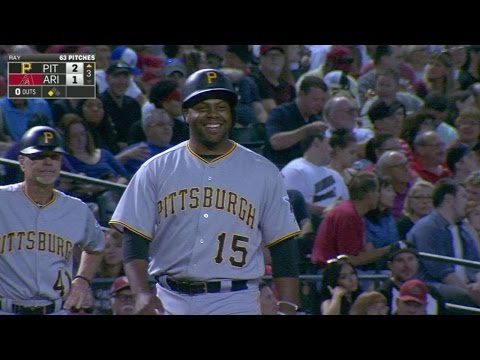 The Hanshin Tigers of Japan professional baseball (NPB) announced the contract with former Pittsburgh Pirates Jason Rogers in July 1. The contract is until the end of 2017 season, his annual salary is 300,000 dollars and uniform number is 48.
Jason Rogers was playing in the Indianapolis Indians of Pirates's Triple-A, in the last 10 games his stats were 412. average, 2 home runs and 5 RBIs. He came to Japan in July 6 and may play from July 17 after obtaining a work visa.
Jason Rogers was born at Georgia on 1988 (Age 29). He was selected 969th overall by the Milwaukee Brewers in the 2010 MLB draft. He had played in the minor leagues of the Brewers and debuted in the Major League Baseball in 2014 season.
Next season, Rogers had played in 86 games and his stats were 296. average, 4 home runs and 16 RBIs in MLB. But on December 2015, Rogers was traded to the Pittsburgh Pirates. After that he played in MLB only 23 games and played mostly in the Minor League. Now he lives in Atlanta with wife and 2 children, his nickname is Panda.
Does Jason Rogers play an active part in Japan? Let's check out his video.
His batting form is an orthodox method and looks like a spray hitter. And according to the news media in Japan, the manager of Indianapolis Indians told that Rogers has a good batting eye and adapts to the strike zone of Japan.
I think Rogers has a similar atmosphere in Alonzo Powell (Now Houston Astros' batting coach). Powell was playing in Chunichi Dragons and Tigers of NPB from 1992 to 1998 and the same right bat as Rogers. Powell's video from that period is here;
By the way Powell became a batting leader for 3 years in a row from 1994 to 1996, if Rogers keeps on playing, he will also play an active part.
But I also have concerns. Tomoaki Kanemoto of Tigers's manager will not bear if Rogers can not play an active part In the early days. For example, Eric Campbell joined the Tigers from this year. But Campbell was at bat only 54th because he did not have good grades. (His stats were 191. average, 1 home run and 5 RBIs). And Manager Kanemoto tends to appoint young Japanese players as priority.
Tigers lost 8 games in a row until June 30, so the team is not feeling well. The team does not have a home run hitter, Jason Rogers will be a savior for the Tigers!