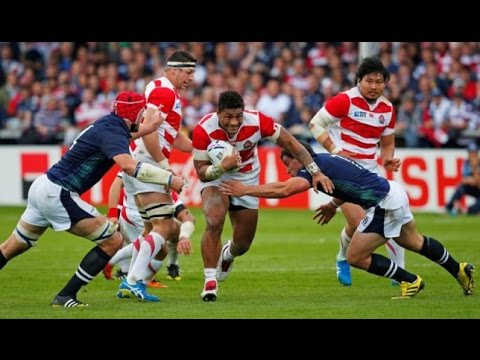 The test match of Japan national rugby union team vs. Wales national rugby union team was held in the Principality Stadium Cardiff, on November 19. In the Japanese starting lineup, 4 players have been exchanged over last week's match with Georgia national rugby union team. Akihito Yamada, Kenki Fukuoka, Samuela Anise and Kensuke Hatakeyama were the starter of the national team, officially nicknamed Brave Blossoms. But Lomano Lava Lemeki who scored 3 tries in the match with Argentina and Gerogia, was injured so he didn't take part in this match.
So the starting members of Japan were that: ■PR: Kensuke Hatakeyama, Satoshi Nakatani ■HO: Shota Horie ■LO: Kyosuke Kajikawa, Samuela Anise ■FL: Malgene Ilaua, Shunsuke Nunomaki ■No.8: Amanaki Lelei Mafi ■SH: Fumiaki Tanaka ■SO: Yu Tamura ■CTB: Harumichi Tatekawa(Cap), Timothy Lafaele ■WTB: Akihito Yamada, Kenki Fukuoka ■FB: Kotaro Matsushima
In the Wales national rugby team, officially nicknamed the Dragons, Sam Warburton(FL)of the captain, Jonathan Davies(CTB)and Leigh Halfpenny(WTB) were the starting member. 10 starting members of the Dragons had played in the 2015 World Cup, they advanced to the quarterfinals. Both teams played a match in June 2013, Japan beat Wales 23 to 8 for the first time. Japan is currently ranked at 11th in the world and Wales is ranked 6th.
There were over 70,000 spectators in the Principality Stadium. In the 8th minute of the first half, Tamura scored a penalty goal, Japan was the first to score. Then, Liam Williams(FB) of Wales was a sin-bin by obstruction, so Wales had to play for fourteen players between ten minutes. So Tamura scored a penalty goal again, Japan took the lead in score of 6 to 0. But Wales' counterattack began, Dan Lydiate(FL)and Jamie Roberts(CTB)got the tries. And Halfpenny who is a team mate with Ayumu Goromaru in the French team Toulon, also scored two conversion kicks. So Wales reversed Japan 14 to 6 in the 23 mitune. After that, Tamura contacted the opponent and became a concussion, so replaced with Amanaki Lotoahea(WTB)for a while from the 32th minute. Then Yamada cut off  the Wales's pass and scored a try, a conversion kick was also scored. Finally, Wales lead one point in score of 14 to 13 in the first half.
In the 2nd minute of the second half, Halfpenny scored a penalty goal. Then Warburton got a try and a conversion kick was also scored, Wales took the lead in score of 24 to 13. But Fukuoka scored a try and Tamura scored a conversion kick, the score was 24 to 20 in the 16th minute. In Japan, Lotoahea, Takeshi Hino(HO), Keisuke Uchida(SH)Uwe Helu and Shuhei Matsuhashi(FL) participated in turns. After that, Halfpenny scored two penalty goals and Tamura also got a penalty goal. However, Lotoahea got a try and Tamura scored a conversion kick, the score was 30 to 30 in the 33th minute. Finally, Sam Davies scored a drop goal, Wales beat Japan 33 to 30.
Japan caught on tie, but they were not be spring an upset. Wales had beat Argentina last week, so their movement was good without a break. Japan didn't take the defense of cooperation so they allowed the attack of Wales. And Japan used too much the short kick so Wales has taken the ball. But Fukuoka was an active, he scored a try 2 matches in a row. Then, Mafi of Japan was chosen for the Man of the match. Next match, Japan play with Fuji national rugby union team in November 26. The match is hold in the Stade de La ravine of Vannes.
This youtube's video is the movie of this match. Fiji is currently ranked at 10th in the world, so Japan will do equal match with Fiji.