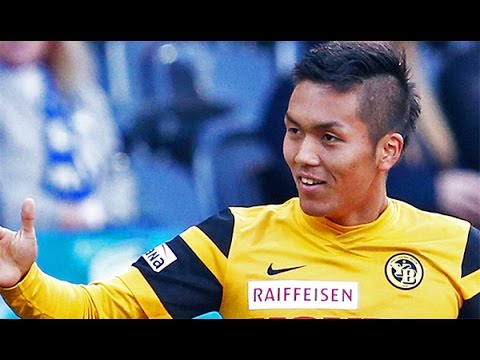 BSC Young Boys of Switzerland Super League announced for Yuya Kubo that deny his dispatch to Rio Olympics, july 27. Young Boys played in the qualifying match of UEFA champions league on July 26. But Alexander Gerndt injured in this match, Kubo became an important player for the team. So Young Boys refused for the benefit of the team that Kubo participate in the Olympic football team of Japan. Super League has already begun, Kubo got a goal in the opening game.
Kubo is 22-year-old and can play in the position of midfielder and forward. When senior in high school, he became a professional player in Kyoto Sanga F.C. of J-League on 2011. He played in 66 match and got 18 goals until 2013 season. In June 2013, Kubo transfered to Young Boys and his contract was 4-year. He became a regular playe, played in 98 match and 25 goals until 2016 season. So Young Boys extended the contract with him until 2020 season.
Kubo also convened in Japan national team on 2012. He did not play in the international match, but he is expected in the future. At that time, he was still a high school student.
In july 28, FIFA contact the Japan Football association that the player can replaced with no pre-registered player. This is possible up to 24 hours before the first match. After that, Japan team will be replaced from the only backup members. Who is chosen national team instead of Kubo? Strong candidate is Musashi Suzuki. He is the backup member, and is the same position as Kubo, Forward. Suzuki play in Albirex Niigata now, and on 2015 participated in the practice of Eintracht Frankfurt of Bundesliga. Unfortunately he was not able to contract with Frankfurt, but he is a promising player in the future.