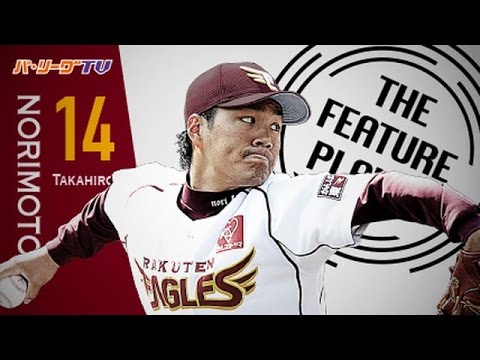 Latest News: In August 12 Tohoku Rakuten Golden Eagles played against Orix Buffaloes at Kobo Park Miyagi. The starting pitcher for the Eagles was Takahiro Norimoto, he pitched a complete game and allowed no earned run with 7 strikeouts. Finally Eagles beat Buffaloes 7 to 0, so Norimoto won 11st in 2017 season.
2017 Norimoto' total stats were 11 wins, 158 strikeouts, 4 complete game, 124 innings pitched, 17 pitching appearances, a .786 winning percentage and an ERA of 3.12 (As of August 12).
Then in game of June 8, Norimoto's streak of games with at least 10 strikeouts extended up to 8. It was a new NPB record, and tied MLB record. This youtube' video is the pitching of Norimoto in June 8.
Biography
Takahiro Norimoto was born at Gifu Prefecture on 1990 (Age 26). Norimoto began playing baseball from 7 years old. During college days,, He had been appointed to join the industrial league baseball team, Nippon Life Insurance Company.
But before the NPB draft, he wanted to enter professional baseball suddenly. Then He was drafted by the Eagles in the second round in 2012 NPB draft. He contracted with the Eagles and he was expected a starting pitcher. As an aside, Nippon Life Insurance Company was furious and banned Rakuten's scouts.
Tohoku Rakuten Golden Eagles
Norimoto had been play in the first team at the rookie year, and he was a cantral player for the Eagles consecutively. In 2013 season, he was an opening day pitcher this year but he didn't win. But his stats was 15 wins, 3 complete games, 170 innings pitched, 27 pitching appearances and an ERA of 3.34.
So he contributed to winning Japan series of the Eagles, with Masahiro Tanaka. And he was chosen the Rookie of the Year with Tomoyuki Sugano of the Tokyo Yomiuri Giants. From 2014, Takahiro Norimoto was an opening day pitcher again for 3 years in a row. And he became a strikeout leader for 3 years in a row.
His stats were 14 wins, 204 strikeouts, 9 complete games, 202 2/3 innings pitched, 30 pitching appearances, a .583 winning percentage, and an ERA of 3.02 in 2014 season. He played an active part the following year, his stats was 10 wins, 215 strikeouts, 194 2/3 innings pitched and an ERA of 2.91 in 2015 season.
And 2016 season, his stats was 11 wins, 216 strikeouts, 195 innings pitched, and an ERA of 2.91. So Norimoto reached double-digit wins for 4 years in a row from the rookie year.
Japan national team
Norimoto also convented in the Japan national baseball team of 2015 WBSC Premier12, and worked as a reliever. But he became a losing pitcher in the semi-finals with South Korea. After that, he was chosen as a member of 2017 World Baseball Classic and contributed to semifinalist of Japan team.
Private Life
In private life, Norimoto married the same high school woman and a child was born in 2016. Then he signed the contract with the Eagles of 3 year from 2017 and his annual salary is 200 million yen.
In addition, he is sociable and has many good friends in other teams. He is also on good terms with Takayuki Kishi who transferred to the Eagles with a free agent. As a friend's episode, Norimoto was eating with Kishi and the president of the Eagles after Kishi's transfer press conference. In 2017 season, they will be in the starting rotation for the Eagles.
Go to MLB?
By the way, Norimoto put a provision on the posting system in this contract. That is to discuss the Eagles for the posting system after the 3 years contract, so he may move to MLB in 2020 season. Norimoto does not seem to feel like wanting to go to Major League Baseball right now.
However, the scout of MLB's team who saw the 2015 WBSC Premier12 was evaluating his pitching. Norimoto threw the fastball of 97.5 mph(157 km) and can get struck out, so he will be suitable for the reliever in MLB.
Other Video
This youtube's video is Takahiro Norimoto's pitch on April 4 2017. He allowed 1 earned run in 6 innings with 8 strikeouts, so Norimoto won 1st in 2017 season. FAV.SPORTS will report his latest news and stats on this page, please check it out sometime!