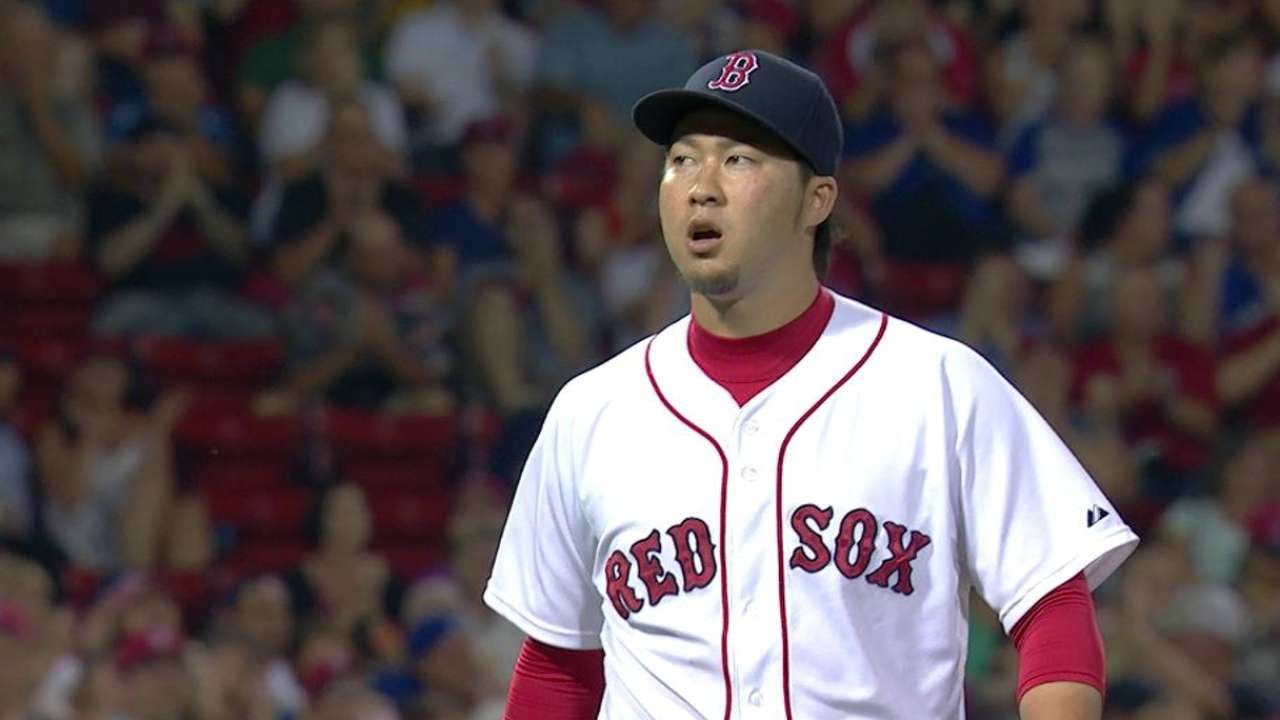 According to the news report in Japan, former Boston Red Sox Junichi Tazawa contracted with the Miami Marlins on December 16. His contract with the Marlins is 2 years and his salary is 12 million dollars. He will be a teammate with Ichiro Suzuki. Tazawa will work as a setup pitcher instead of Mike Dunn who transferred to the Colorado Rockies.
Junichi Tazawa 's biography is that he's the age of 30, and he is not married. He was born at Kanagawa Prefecture and began playing baseball from 9 years old. After graduating from high school, He had been appointed to join the industrial league baseball team, Nippon Oil. But before the 2008 NPB draft, he announced to challenge the Major League Baseball suddenly. And he sent a document to all the teams of the NPB teams, the content that he didn't drafted in NPB draft. After all, he was not nominated for 2008 NPB draft as he wanted.
In December 4 2008, Tazawa contracted with the Boston Red Sox. He signed the contract with the Red Sox of 3 years and his salary is 4 million dollars. His contract was the major league contract, so he was the first japanese amateur player to sign a major contract. In 2009 season, he almost played in the Minor League. Then he debuted in MLB on August 7, and the first batter who he threw was Hideki Matsui of New York Yankees. But after that, he allowed Alex Rodriguez to hit a home run and became a losing pitcher. Finally his stats was 2 wins, 3 losses and an ERA of 7.46.
In 2010 spring training, Tazawa found a right elbow ligament injury in a precise examination. So he underwent Tommy John surgery and he has rehabilitated for about a year. In 2011 season, he started to play in the minor league. But he joined in the Red Sox for the first time in 2 years on Sepember. Tazawa signed the 2012 contract with the Red Sox of 1 year and his salary is 920,000 dollars. He worked as a setup pitcher and his stats was 1 win, 44 innings pitched, 37 pitching appearances and an ERA of 1.43.
In 2013 season, Tazawa signed again the contract with the Red Sox of 1 year and his salary is 815,000 dollars. He has been doing well as a setup pitcher from this year, his stats was 5 wins, 68 1/3 innings pitched, 71 pitching appearances, 25 holds and an ERA of 3.16. So he contributed to winning World series of the Red Sox, with Koji Uehara. From 2014 season, he also pitched more than 60 games on average, and he took 16 holds every year in the Red Sox. His salary rose to 3.37 million dollars in 2016 season.
Why did not Junichi Tazawa join the Japan professional team and contracted with MLB team? In an interview of a Japanese magazine several years ago, he told the reason. The reason is that the Japanese team thought him as an immediate asset, but he was not confident at the time. But the Red Sox told that he will be raised with a program that can be played in MLB three years later. So he made a contract with confidence in the plan.
However, the NPB was afraid that leading amateur players would go directly to MLB, like Tazawa. Then the NPB passed a rule requiring any amateur player who signs overseas to sit out two years before he can join a Japanese team. So Tazawa can contract with the Japanese team two years after leaving the Red Sox. In other words, he can contract with the Japanese team in 2018 off season when the contract with Marlins is over. If he wishes to back Japan, he needs to be nominated by Japanese draft.
In 2013, Tazawa wanted to be select in the Japan national baseball team for the World Baseball Classic. He was not chosen after all,  and the reason seems to be that he never played in Japan. But now he is in the primary registration member for 2017 WBC, he also thinks his participation positively. Because the Japan national team has no setup pitcher, so he may be chosen the national team member. Marlins wishes Ichiro and his permission.
This youtube's video is Tazawa's pitching in 2015 season. For him, it is the first time to playing in the National League but he will play an active role.